Trondheim: The casual city
By Maya Acharya | Photos: Visit Trondheim
Trondheim is known as Norway's laid back city: a holiday destination where you don't need an itinerary. Within a short stretch, you can stroll, shop, soak up history, sip a locally brewed beer and even go hiking.
Although it's one of Norway's major cities, Trondheim is one of those places that manage to feel both small and big at the same time. With its many historical attractions and its friendly, urban vibe, it has become a popular getaway for tourists and Norwegians alike.
Spontaneous sightseeing
Known as both the gateway to the north and the gateway to the fjords, Trondheim is a great starting point for those visiting Norway for the first time. "A good reason to start in Trondheim is also the history," says managing director at Trondheim Visitors & Convention Bureau, Line Vikrem-Rosmæl. "Trondheim is home to some fantastic historical attractions, including the famous Nidaros Cathedral and Stiftsgården, the Royal Family's Residence and the largest wooden palace in Scandinavia. Another must–see is Munkholmen, a monastery built by Benedictine monks on an island just off Trondheim's coast; today also a place to enjoy a sunny day on the beach."
"The great thing about Trondheim is that the city is so compact," explains Vikrem-Rosmæl. "Everything is very accessible and that creates a very relaxed atmosphere. Because everything is close by, you can see historic sites while still feeling part of the regular city life. From Nidaros Cathedral, you can walk to Bakklandet – Trondheim's old town – with a mix of wooden houses, boutiques and cafes, in two minutes. You can enjoy a coffee and the bustling street life, then carry on towards Midtbyen – the centre of the city where you can experience city life, go shopping, pop into a museum or art gallery. The city allows you to be spontaneous, to not make plans but just 'wing it'." A good way to do this is by city bike, as there are plenty of bike rentals around and good biking trails across the city.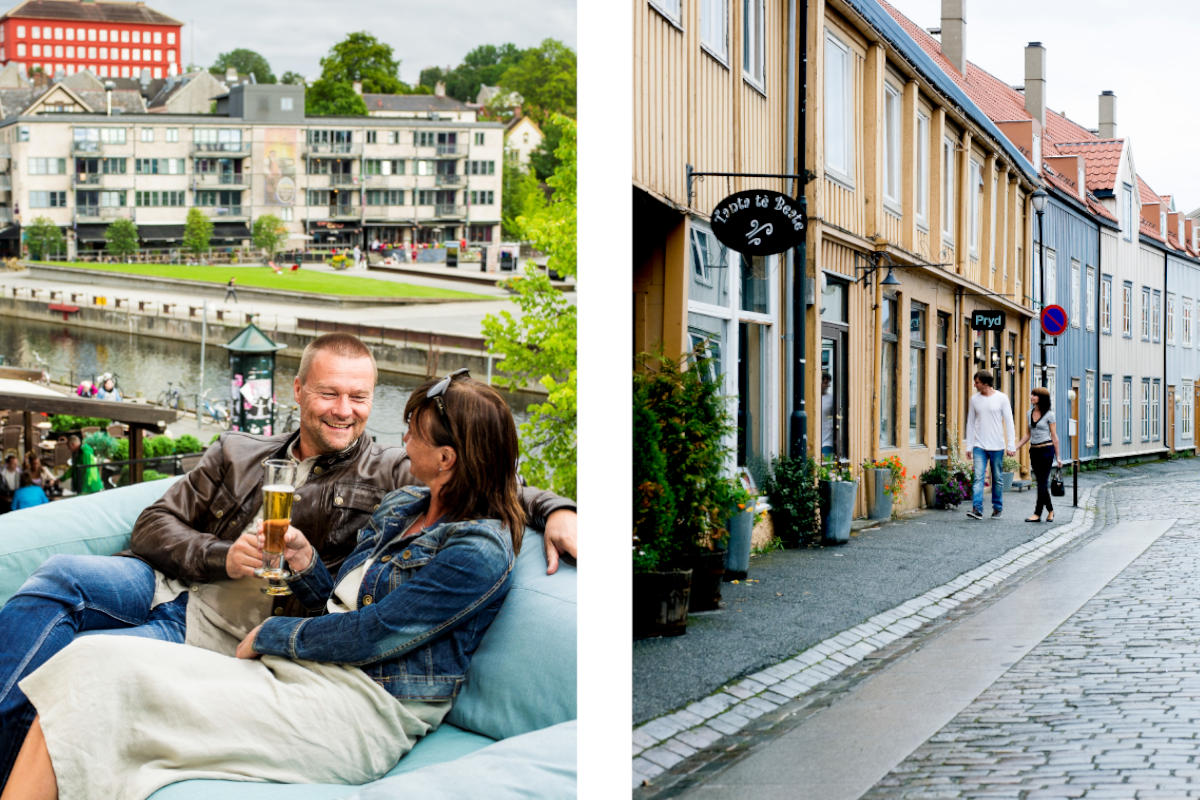 The good life
But Trondheim is not all about history. It is also a city that increasingly caters to modern urbanities. A good example of this is the beer culture, which has bloomed in recent years. Good beer is serious business in Trondheim, and the city is home to many local, artisan producers as well as award-winning microbreweries. Each year, in August, Trondheim also hosts an annual brewing festival in conjunction with Trøndelag Food Festival, where brewers from across the country gather to serve different kinds of beers and ales to the public. "Trondheim has really had a burst of urban development the last few decades. There are lots of great new restaurants, trendy pubs and shops. I think more and more people are interested in living the good life, relaxing, having fun as well as eating and drinking well," Vikrem-Rosmæl remarks.
Part of the good life means being close to nature, and as Vikrem-Rosmæl says, locals (known nationally as Trøndere), make good use of their surroundings. "Living in the city you are only ten minutes away from beautiful nature. The valleys around the city are perfect for hiking. Or, you can take Trondheim's one and only tram line up to Lian, a park and recreational area where you can experience amazing natural surroundings," she says.
You could also incorporate nature into your sightseeing schedule and experience the city from a guided kayak tour down the Nidelven River.
City of contrasts
Trondheim is just the place for culture vultures, too. It is known as the home of many reputable jazz musicians and hosts not only a jazz festival, but also a chamber music festival and a blues festival. Each year the city also celebrates Saint Olav's Festival, a cultural festival that marks the death of Saint Olav at the Battle of Stiklestad. "The festival takes place in and around the Nidaros Cathedral. It is really unique to see rock concerts, talks and other events in such historical surroundings," Vikrem-Rosmæl points out.
Trondheim seems to be a city of contrasts. Old but modern, urban but natural, big but cosy. To top it off, it is also both a city of international and local impulses. With its well-known university, the Norwegian University of Science and Technology, it attracts students and academics from across the country and the globe. At the same time, it maintains a friendly, local culture and a small-town feel.
"One of the things I like best about Trondheim are the Trøndere," Vikrem-Rosmæl says. "They are known for being warm, talkative and informal. It is easy to strike up a conversation and get to know the locals."
For more information, please visit www.trondheim.no
Subscribe to Our Newsletter
Receive our monthly newsletter by email