True Adventure: Paraglide and zipline on Iceland's wild volcanic coastline
By Lena Hunter | Photos: True Adventure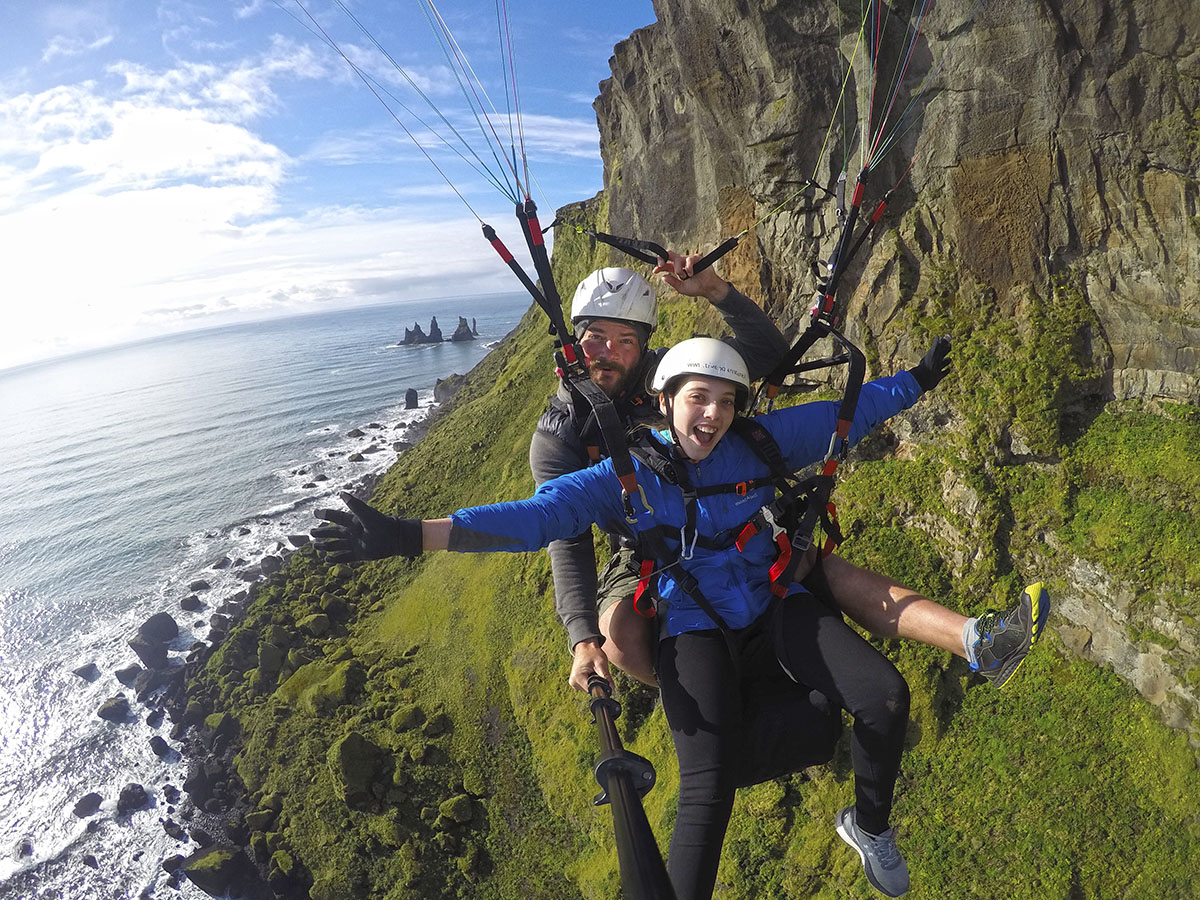 Common advice when you're travelling to Iceland is to rent a car. "It's the only way to see the sights." But much of Iceland's dizzying natural beauty is locked in undriveable terrain – and even more is best appreciated from a completely different perspective. At True Adventure, which runs tandem paragliding flights and zipline tours from a tiny coastal village, that perspective is a bird's-eye view.
"Vík í Mýrdal is a unique place to paraglide because the mountains are so accessible; it takes just five minutes to drive to the top from the meeting point. And the scenery is ridiculously beautiful here," says Sammi Alexandersson. The remote village he describes is on Iceland's south coast, at the foot of the Mýrdalsjökull glacier and towering Katla volcano. Sammi is a paragliding pilot himself and one of the founders of True Adventure. He's flown all over the world and is well-acquainted with Iceland's hundreds of flying spots – so when he says it's beautiful, you'd better believe it.
"Damn, this is awesome."
"I think there's a bit of a stigma around paragliding. It's a small sport and people think its way more dangerous than it is," says Sammi. "In fact, it's one of the most comfortable ways to enjoy the Earth from above." The wing itself is non-motorised, lightweight and inflatable – launched by taking a few steps down a slope – while the seat is akin to a lounge chair. "You're enjoying the views straight after take-off."
Sammi has been paragliding since 2009. "My uncle told me to check out this course. As soon as my feet left the ground, I was like: damn, this is awesome." He and co-founder, Þráinn Sigurðsson, are two of Iceland's most experienced instructor pilots, and True Adventure is the country's only registered APPI Paragliding School and Flight Centre.
No experience needed
Despite its extreme reputation, anyone can paraglide – there's no need to have any previous flying experience. "Or any sports at all!" says Sammi with a laugh. "Age seven is the youngest for paragliding – not because it's dangerous, but because younger than that they don't really know what they're getting into. We also have a lot of people who are super afraid of heights or flying. One girl I flew with loved Iceland, but always came by boat. She paraglided with us, and now she flies again!"
"Sometimes we're four pilots, or sometimes we're just two – so we can only take four at a time. We welcome larger groups, but paragliding is as much of a one-on-one experience as you can get," he adds. True Adventure's flights launch from a stunning mountain that slopes into the ocean. "We fly either side depending on where the wind is coming from. There aren't many take-off points as beautiful as this one," says Sammi. "On lucky occasions we see whales while we're flying over the ocean… so it's paragliding and whale watching at the same time! The birds are quite curious – ravens, for example – they'll come and check you out."
Skimming the valley
Alongside paragliding, True Adventure offers ziplining tours in the mountains. "Our ziplining experience is a bit different to others. A lot of people associate ziplining with adventure parks, but here we're privileged that we can use an entire river canyon," says Sammi.
The tour takes groups of up to 12 and comprises a hike through a breathtaking gorge and four zipline rides of 120, 240, 30 and 140 metres long. Every ride offers a stunning bird's-eye view of the unique landscape, while the last – named 'Big Rush' – passes right over the Hundafoss waterfall.
"When we started Zipline Iceland, we approached it with the mind of paragliders. Which lines would we love to fly? The ziplines are not super high. In paragliding, the biggest thrill is when you're close to the ground, because that's the only time you're really aware of how fast you're going. So that's what we want: to be skimming the valley," says Sammi.
The paragliding bug
True Adventure offers combo deals on ziplining and paragliding experiences that are booked together – for those who want to try it all. For Sammi, that's what it's about: "We just want people to try paragliding – whether in Iceland or elsewhere. I think everyone should do it, especially in the mountains. It's so thrilling, safe and easy to learn. We want people to be infected with the paragliding bug – to get a taste, like I did, and hopefully they'll want more!"
Tandem paragliding tours are available daily from May to September Zipline tours are available daily, with multiple departures per day between Easter and Christmas. When booking, use code SCANMAG for a ten per cent discount. Web: www.zipline.is/ www.trueadventure.is/ Instagram: @ta_iceland @ziplineiceland
Subscribe to Our Newsletter
Receive our monthly newsletter by email