Västervik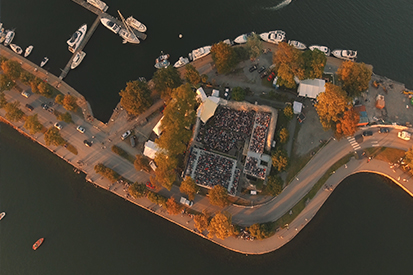 Västervik
– the true archipelago town
TEXT: SOFIA SCRATTON | PHOTOS © DAVID WALL DENHEF DIGITAL
The archipelago town of Västervik is located in the north of Småland, in the south-east part of Sweden, 280 kilometres south of Stockholm. The town has attracted tourists for decades, from both Sweden and further afield, and with its archipelago, it has been described as Sweden's most beautiful town. Västervik also has a special connection to ABBA, as Björn Ulvaeus was born and raised here, is still very invested in the town, and has recently opened Västervik's new meeting place.
Västervik is a classic tourist resort, largely thanks to the archipelago being so nearby. The archipelago is made up of approximately 5,000 islands, and the sea can be seen whichever way you look. "Not many other towns in Sweden are this close to the archipelago, and this is what makes Västervik extra special. The archipelago goes right into the middle of town," says Niklas Lind, marketing director at Västervik Framåt.
The archipelago and the nature attract plenty of tourists during the summer months, from both Sweden and other parts of northern Europe. The archipelago islands are all easy to get to – either by ferry or by taxi boat. Kayaks, canoes and power boats are also available for hire, for those who feel a little more adventurous.
Musical heritage
Björn Ulvaeus, the Swedish songwriter, producer and member of ABBA, spent his childhood in Västervik and still has strong connections to the town. His own project, Slottsholmen, was completed in 2018 – a meeting place where you can dine in the restaurant, spend a night at the hotel and spa, or enjoy a musical event.
Ulvaeus' own career started at the festival Visfestivalen, one of the oldest festivals in Sweden, just a stone's throw away from Slottsholmen. The festival has been running every year since 1966 and always takes place during a long weekend in mid-July. Almost every Swedish musician has at some point during their career been on the stage in the old castle ruin, where the festival takes place. Even Elvis Costello performed at Visfestivalen as part of his tour of Scandinavia in 1978. The festival is very popular and sells out every year, without fail.
Moreover, Västervik is a true Swedish summer town with plenty to offer: walks by the sea, a day trip to one of the many islands, or a spot of shopping and a bite to eat in the picturesque town centre.
Subscribe to Our Newsletter
Receive our monthly newsletter by email