VEJRHØJ: Wooden watches for everyone
By Nicolai Lisberg | Photos: Poul Kofod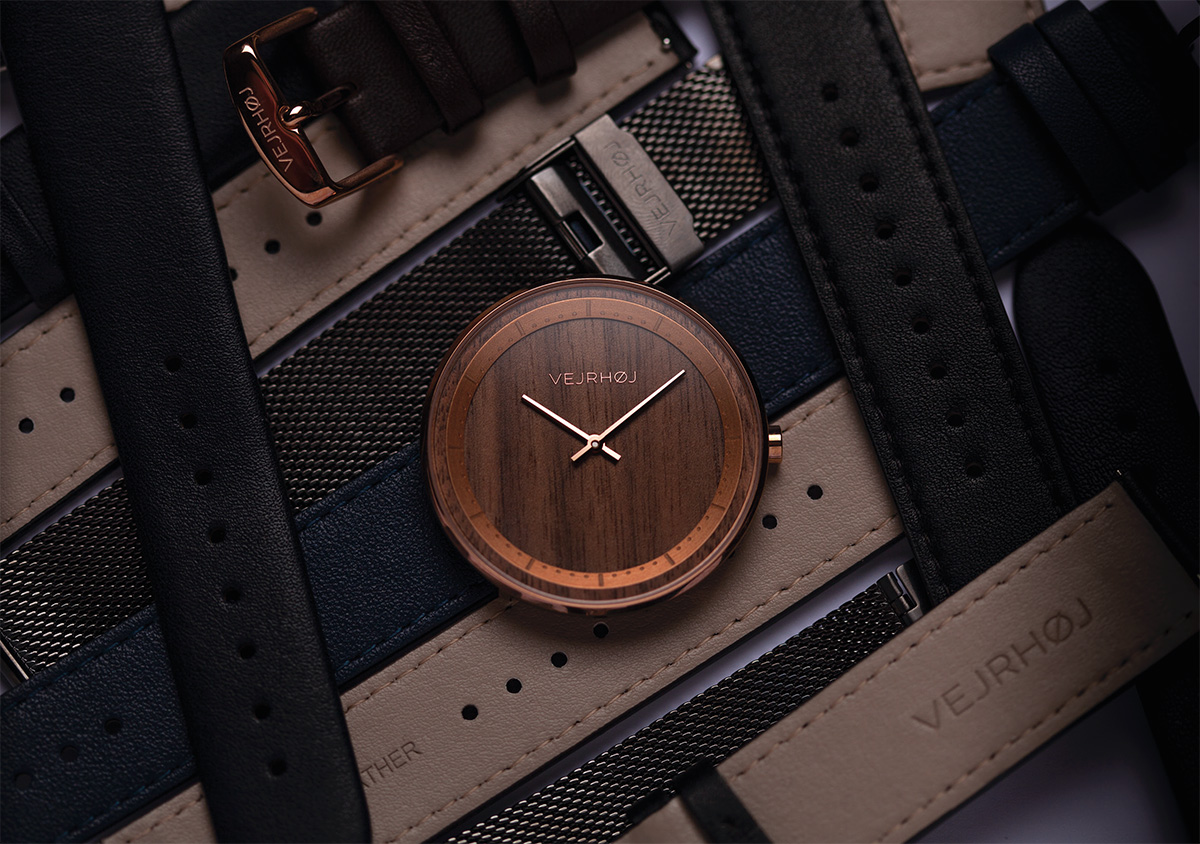 Rooted in Danish design, VEJRHØJ's Nordic minimalist watches combine natural hardwood with stainless steel. The wrist-pieces are both elegant and affordable, and a new automatic range is about to join the collection.
Watches are in again. Not that they were ever truly out of fashion, but we've become accustomed to relying on our smartphones for timekeeping, rather than investing in a watch. "The watch has become a counter-trend in the modern digital era, in which you have to be online all the time. Many of our customers tell us that they have started wearing a watch again after years of not wearing one. They say that they feel more present in relationships and conversations because they don't get distracted by taking out their phone," says Janus Aarup, CEO and founder of VEJRHØJ.
The watch company was founded ten years ago to bring something new to the wooden-watch market – a market that used to be very big, especially in skater circles. Merging hardwood with stainless steel, VEJRHØJ created a more elegant and long-lasting model and, by selling them online directly to the customer, rather than using a distributor, they maintained an affordable price-point.
"When you combine wood with steel you have so many design possibilities. Wood has a warmth and naturalness that is not only comfortable to wear, but also to look at. There is just something charming about wood, and since no piece of wood is identical, every watch is unique," says Aarup.
Who wouldn't want a wooden watch?
Although the minimalist look and the use of wood are characteristic of Nordic design, VEJRHØJ have become extremely popular in North America and Asia, while Japan has become the biggest market for the Danish company.
"Danish and Japanese customers are actually a lot alike. Both have a preference for simplicity and good craftsmanship, and both are drawn to wood as a material. In Asia they have their cherry blossom season, which is almost sacred, and we have designed a model made with cherry wood which is extremely popular in Japan," says Aarup.
All watches from VEJRHØJ have a wooden element, some more than others, and although they use a small amount in production in comparison to furniture manufactures for instance, the company is very aware of the scarcity of wood in the world.
"It's very important for me to be able to give something back to nature. That's why we donate to the non-profit organisation One Tree Planted to support reforestation. Every tree makes a positive impact on nature, wildlife and people, and we have to protect this world for our future generations," says Aarup.
Web: www.vejrhoj.com Instagram: @vejrhoj Facebook: vejrhojdanmark Twitter: @vejrhojdk
Subscribe to Our Newsletter
Receive our monthly newsletter by email