Vestre Fjordpark: Aalborg's new outdoor wonderland – making people jump with joy
Open-air swimming, bouldering and beach volley – these are just some of the free activities on offer in Aalborg's new, vast recreation area. Once the site of a run-down lido and spanning 165,000 square metres, Vestre Fjordpark has become a must-visit location in Denmark's most northerly city.
Located on the Limfjord, three kilometres from the centre of Aalborg city, Vestre Fjordpark is a wonderland for outdoor enthusiasts. Since opening last summer, the park has become the number one place to be on a warm summer day – or evening. "It's been an overwhelming success," says Aalborg municipality project manager Anders Toft Hougaard. "I went to visit on a warm evening in May and I think there must have been between five and eight thousand people out there, and that's just a regular good night." Aside from the 50-metre open-air pool, the park's free facilities include beach volleyball courts, basketball, an outdoor gym and much more. It is also the home of a number of local clubs and organisations, such as Aalborg Sportsdykkerklub (sport diving club) and Aalborg Havkajakklub (sea kayaking club).
From run-down lido to award-winning park 
With its long history, the 70-year-old Aalborg lido had always been a pop ular recreational site in the city. When connection to the motorway – a project for which the surrounding parkland has originally been reserved – was cancelled, the municipality therefore took action to ensure that the popular area would not be lost. With three different funds (Det Obelske Familiefond, Lokaleog Anlægsfonden and Nordea-fonden) each donating 11.5 million DKK (around 1.37 million GBP), a total of nearly 73 million DKK (five million GBP) was invested into the development of the lido and surrounding area, and an ambitious plan was set into work. "We were more
than a bit nervous when we first started, as both the lido and the green area that surrounded it had a very special place in the heart of the people of Aalborg," explains Hougaard. "So we did several open workshops for people to come with their input and ideas, and we have had so much positive feedback as a result."
Designed by Adept architects and GHB Landskab, Vestre Fjordpark was among three nominees for the Danish Landscape Award 2017 and was nominated as one of the four best new buildings in Aalborg Municipality in 2017. Furthermore, it has just been announced that the park is among the finalists in the Sport in Architecture category at the World Architecture Festival, taking place in Amsterdam in November.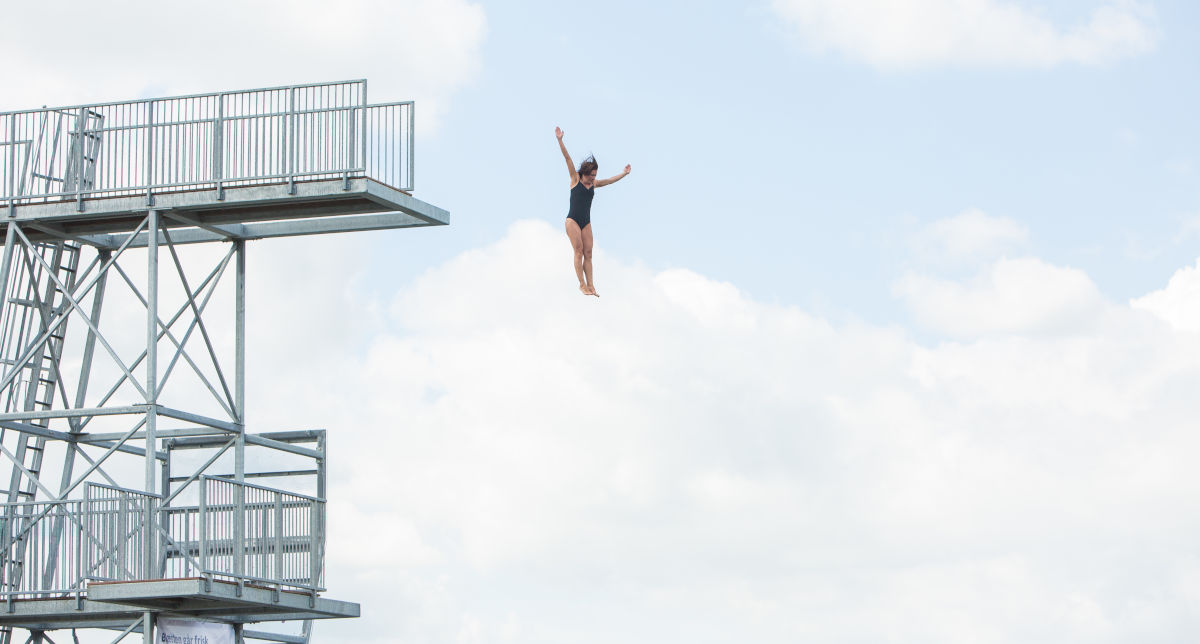 The design of Vestre Fjordpark divides the large green landscape into several smaller parts, each with their own identity and character. Each area blends elements of the natural landscape with a range of sports and outdoor activities. In the wood and wetland area, for example, guests can explore the greenery and its wildlife through a network of small paths and enjoy their lunch at covered picnic tables. Meanwhile, 'the plain' is characterised by large, open grass fields and courts for football, handball and beach volleyball. Finally, there is the beach zone, where visitors can enjoy the large open-air pool, springboards and an over-water bouldering wall.
"The heart of the park is the large openair pool. It varies in depth from zero to five meters and adjoining it is a water and sand playground, with slides and activities for the smaller children," explains Hougaard. "For the bigger children and teenagers, there's an area for springboard diving, as well as a sevenand-a-half-metre-tall bouldering wall, with a free drop into the water." He adds: "We're not quite sure, but we think it's the tallest of its kind in Denmark."
The beach area also comprises a number of individual buildings, which are bound together by a connected roofscape, with built-in trampolines and sun decks. The buildings house a sauna, a small café, changing rooms and toilet facilities, as well as local organisations, which include the Aalborg winter bathers. No wonder that come sun, rain or snow, people are jumping with joy in Aalborg's new outdoor wonderland.

http://www.aalborg.dk/fjordpark
Subscribe to Our Newsletter
Receive our monthly newsletter by email