Vilhelm Lauritzen Architects: Pushing the limits of prefabricated luxury
Text: Signe Hansen | Photos © Rasmus Hjortshøj
Transforming an iconic building in the heart of Copenhagen is a dream job for many architects, but it also implies nightmarish restrictions and challenges. When creating a new facade for the historical Illum department store, Vilhelm Lauritzen Architects needed a plan that could be realised within a restricted time and space frame, and without renewing the municipal district plan.
"The Marching Band of the Royal Life Guards defined our work space," says Partner Simon Svensson with a smile, but he is actually quite serious. A challenging condition of the new Illum facade project was a set safety distance from the Band of the Royal Life Guards marching by Amagertorv every week. A strict time plan posed another challenge, as the owner of Illum needed to realise the new facade without renewing the municipal district plan. "There was simply no room for mistakes," Svensson stresses. "Basically, we had to make a new facade with specific requirements at a building site that couldn't exist."
Modern, yet respectfully integrated into the surroundings of the old city of Copenhagen, Illum's exterior was radically transformed from what was previously an anonymous dark facade. The result, however, shows little evidence of these challenges.


Pushing the limits of prefabrication
So, how was it done? By pushing the physical limits of prefabricated facade elements. Placed on top of a light limestone cladding, large, prefabricated dark bronze boxes now add depth and texture to a previously smooth facade. "The most important thing was that the facade did not appear as an offsite prefab construction. So, we had to ask ourselves how to work with something of this scope and simultaneously challenge the perception of a prefabricated facade," says Svensson. "We had to go bigger, heavier and wider than ever. When we talked to manufacturers, they were initially concerned about the size of the elements, but we found a solution. My approach is that everything can always be done in collaboration."
The prefabricated elements were installed on the corner of Illum and by adding a relief effect, the building was integrated with the elaborate facades of the surrounding blocks.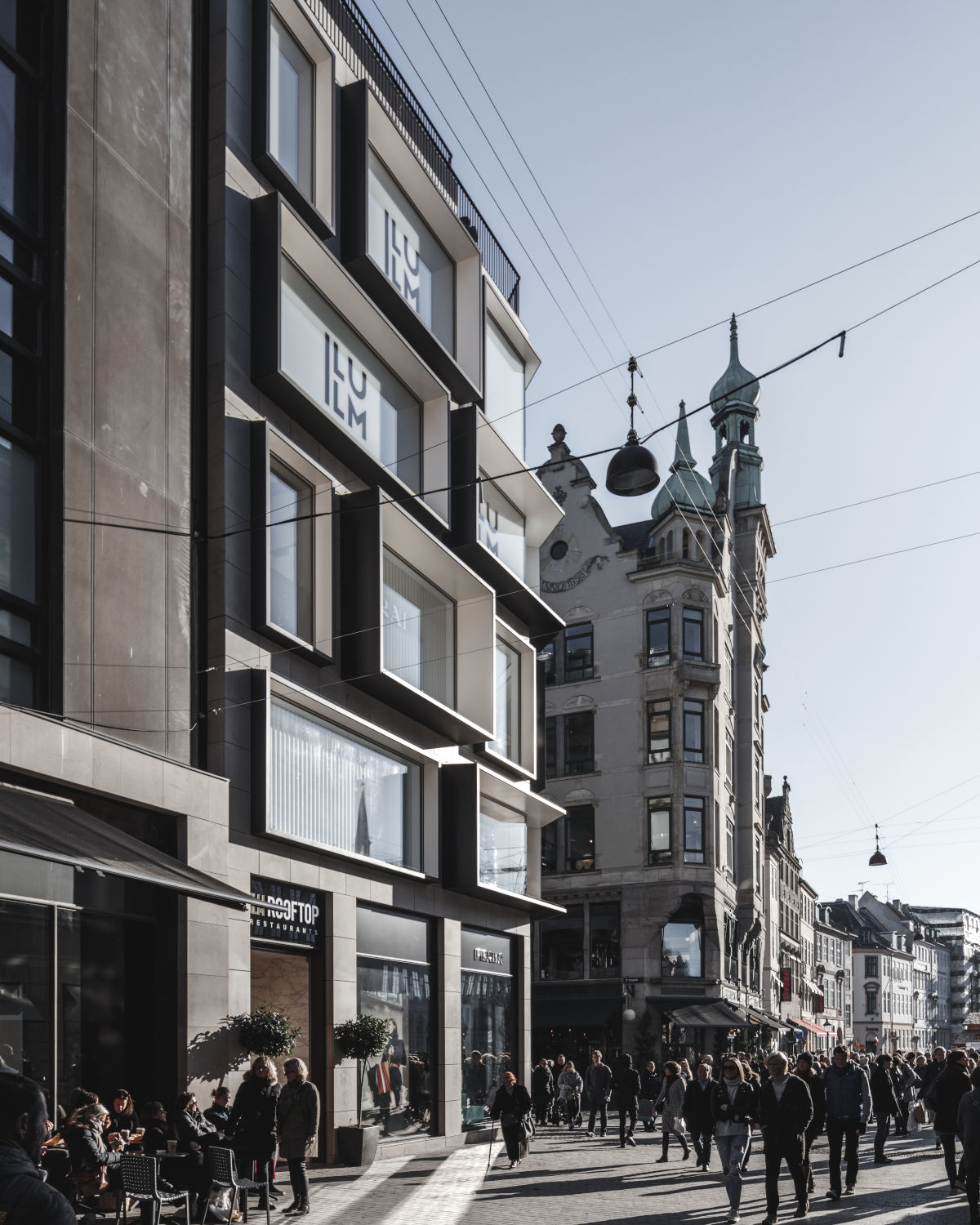 Respectfully uniting centuries of design
While the restructured facade of Illum's corner has radically altered the department store, it is not the only part of the transformation. Illum consists of a cluster of properties built from 1890 to 1970 and all were given a unifying base, middle, and roof structure. "Originally the corner of Illum was not part of the block, meaning it was taller than the adjacent buildings," explains Svensson. "We proposed to the client the advantage of actually removing an entire floor and they were up for it as they could see the benefits. We're pretty proud of that. When a client agrees to reduce commercial square metres, your design works."
Reducing the height of the corner building unlocked the possibility of connecting the roofs of the adjoining houses, hence expanding Illum's much loved rooftop terrace, a hot spot for tourists and locals alike. Combined with large open-window sections on all floors, this has opened up a previously rather closed building to the city around it, to the satisfaction of both wandering visitors and super brands, like Prada. "In Denmark we're known to work with and utilise daylight to create bright, open and inviting environments, whereas the Prada stores located in Illum's corner building tend to be a bit more reserved and secretive. It was important for us to create and challenge the encounter between Italian fashion and Danish modernism, but they were very excited, when we presented the concept. I think that's when we knew we hit the spot – when people like Prada are happy, you know you've got it right."
Facts: -Vilhelm Lauritzen Architects is a one of Denmark's largest and oldest architecture firms, employing 150 architects, construction engineers and specialists. -The firm was founded in 1922 by leading modernist architect Vilhelm Theodor Lauritzen. He was born in 1894 and accepted at the Royal Danish Academy of Fine Arts in 1912. -Lauritzen and his associates, among others, the internationally renowned Finn Juhl, went on to create a string of the most recognised and famous works of Danish modernism, including DR's Radiohuset, the equivalent of BBC's broadcasting house, the concert hall VEGA and the original Copenhagen Airport, today known as the Vilhelm Lauritzen Terminal. Later in life, he came to receive the Order of Dannebrog – the Danish equivalent to the OBE. -Among the recent projects of Vilhelm Lauritzen Architects, are the airports of Copenhagen and Oslo, the national broadcasting house of DR, metro- and train stations, university campus extensions, large headquarters, laboratories and Denmark's new embassy in India. -Vilhelm Lauritzen Architects is located in Nordhavn, Copenhagen. Web: vla.dk Instagram: @vilhelmlauritzenarchitects LinkedIn: vilhelm-lauritzen-architects
Subscribe to Our Newsletter
Receive our monthly newsletter by email