Voss — your immersive nature experience, levelled up
BY JULIE LINDEN
MAIN PHOTO: Arriving at Voss railway station, you can make the scenic gondola trip to the top of Hangurstoppen in under seven minutes. Photo: HLM Arkitektur
Just one and a half hours from Bergen city is one of western Norway's largest ski resorts, with 23 ski trails, year-round activity offerings and unbeatable proximity to the picturesque Hardangerfjord and Sognefjord. With its presentation of a brand-new, state-of-the-art mountain gondola in 2019, Voss has further heightened its offering of sublime nature experiences.
"The beautiful nature is of course one of the central reasons why travellers choose to visit Voss, but I believe it's the presentation and accessibility of it that makes them come back," says head of marketing at Voss Resort, Synva Vinje, flanked by marketing coordinator Linn Ravndal Norevik. "Exactly, there's something about the purity of nature and the variety of activities on offer, but even more so, there's a special touch in how it all comes together. Every detail represents an earnest wish to grant an experience out of the ordinary – something very genuine," she adds.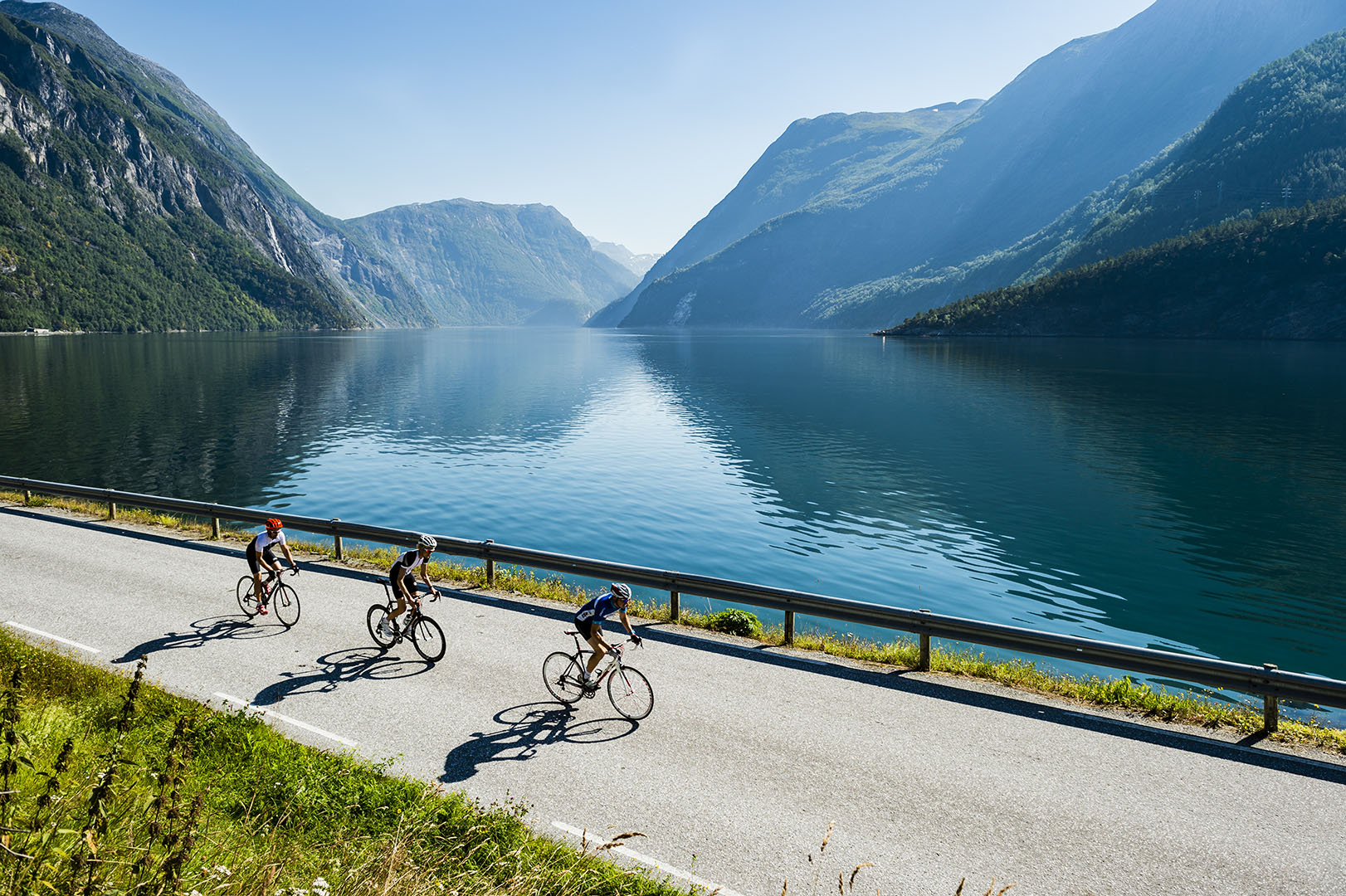 Bike the fjords for an unforgettable nature experience. Photo: Mattias Fredriksson/Fjord Norway
The Voss gondola: a 'wow' project
The recent completion of Voss' new, 300 million NOK (around 27.75 million GBP) gondola project is a unique and apt example of the town and resort's dedication to nature accessibility. Connecting the public transport hub at Voss railway station to the top of Hangurstoppen mountain at 820 metres above sea level, the gondola delivers non-intrusive immersion into the scenery, environmentally friendly transportation, and a scenic ride – all in the six and a half minutes it takes to reach the top station.
When there, guests have immediate access to the ski resort or summer activities, depending on the season, and a brand-new 450-seat restaurant serving the freshest, locally sourced food. "This really is a 'wow' project that has attracted lots of attention across Europe," says Vinje, adding that the gondola will be open year round. "The hope is that it'll be helpful to the locals and tourists alike, and contribute to the conceptualisation of Voss as a modern hub of the fjords."
White-water rafting is a popular activity in Voss, where the mountainous terrain is weaved in with several rapid rivers. Photo: Voss Active.
Conferences with active and relaxing breaks
Beyond the gondola, a brand-new Scandic hotel will open in January 2020, contributing to exciting developments in the area. The restaurant at the top of Hangurstoppen, the largest in Voss, will serve dishes and beverages by local suppliers and provide meeting and conference facilities for up to 50 people.
"As a fairly rare conference offering, the restaurant provides state-of-the-art, newly constructed spaces literally next door to a ski resort. Why not plan relaxing or active breaks during your conference days, incorporating skiing or one of the many other activities on site?" asks Vinje. "Depending on the season, Voss Resort can help you tailor your stay to make the most out of the area."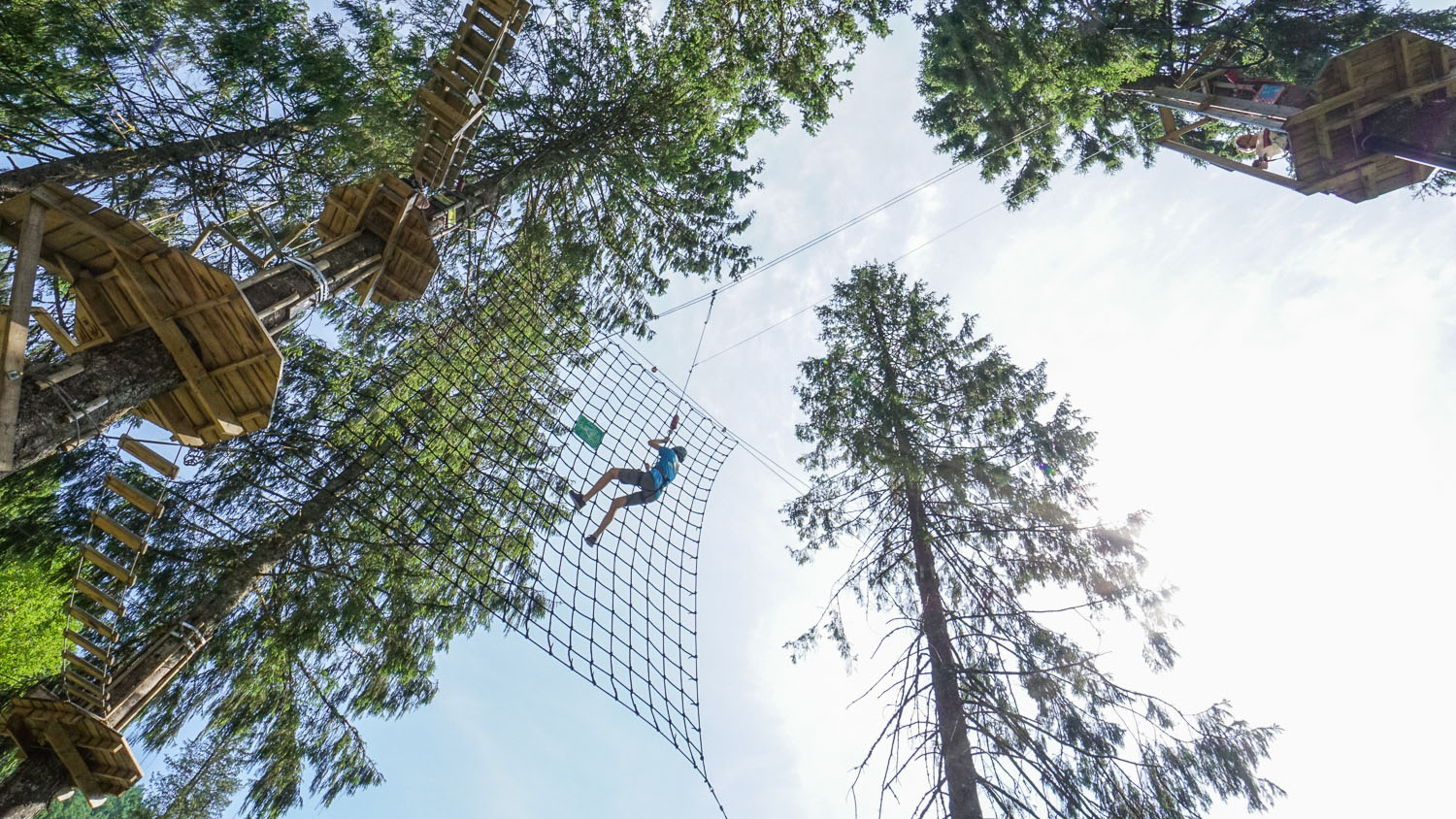 The high-ropes course at Voss Active High Rope & Zip-line park is great fun for the whole family. Photo: Voss Active.
Adventures and adrenaline in Norway's activity mecca
A true activity hub of western Norway, Voss can offer everything from scenic walks to extreme sports. Boasting indoor skydiving at Norway's first vertical, recirculating wind tunnel, VossVind allows for an adrenaline rush unlike any other – and Voss Hang & Paraglider Club provides single and tandem paragliding along one of Norway's most scenic landscapes, with excellent thermals.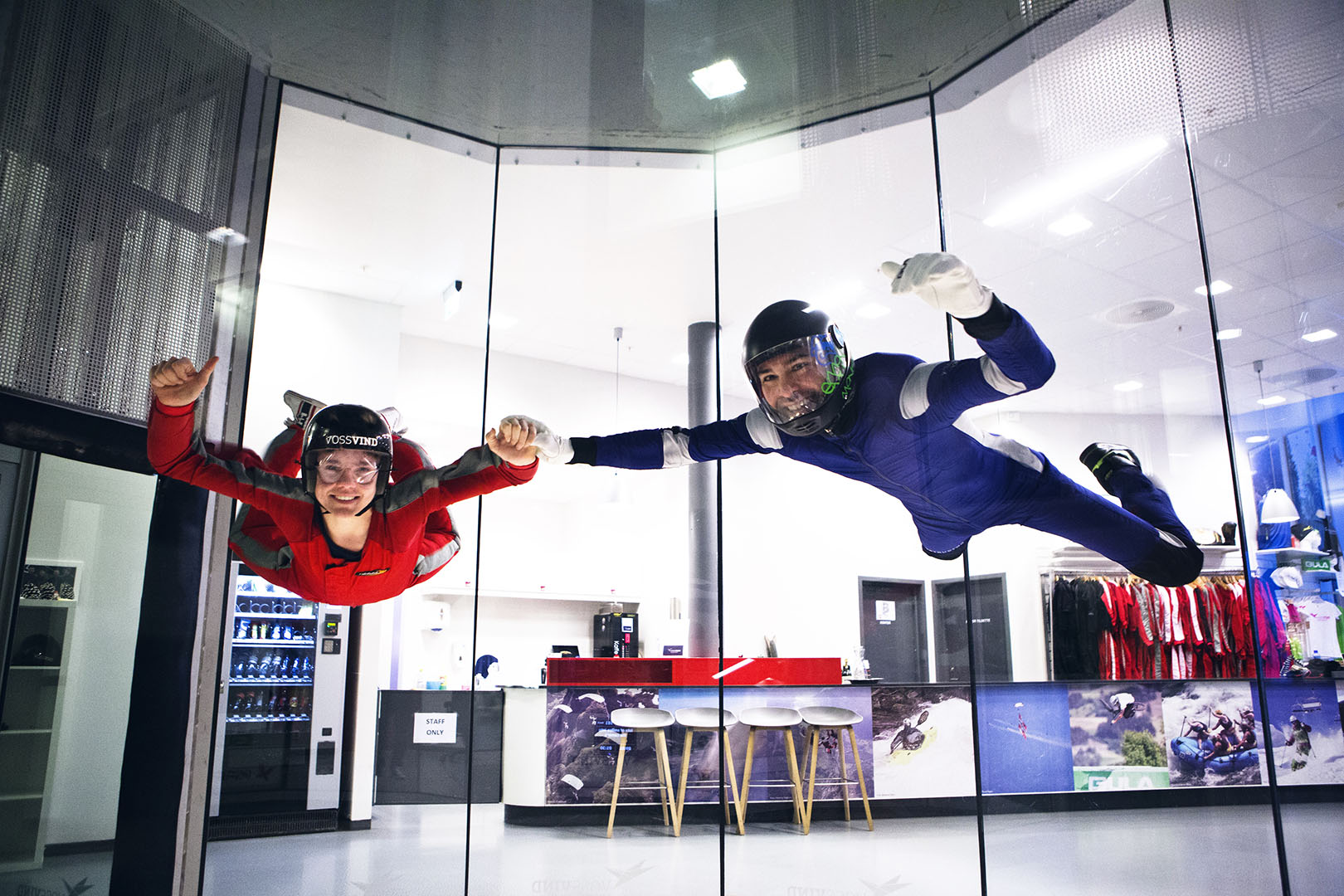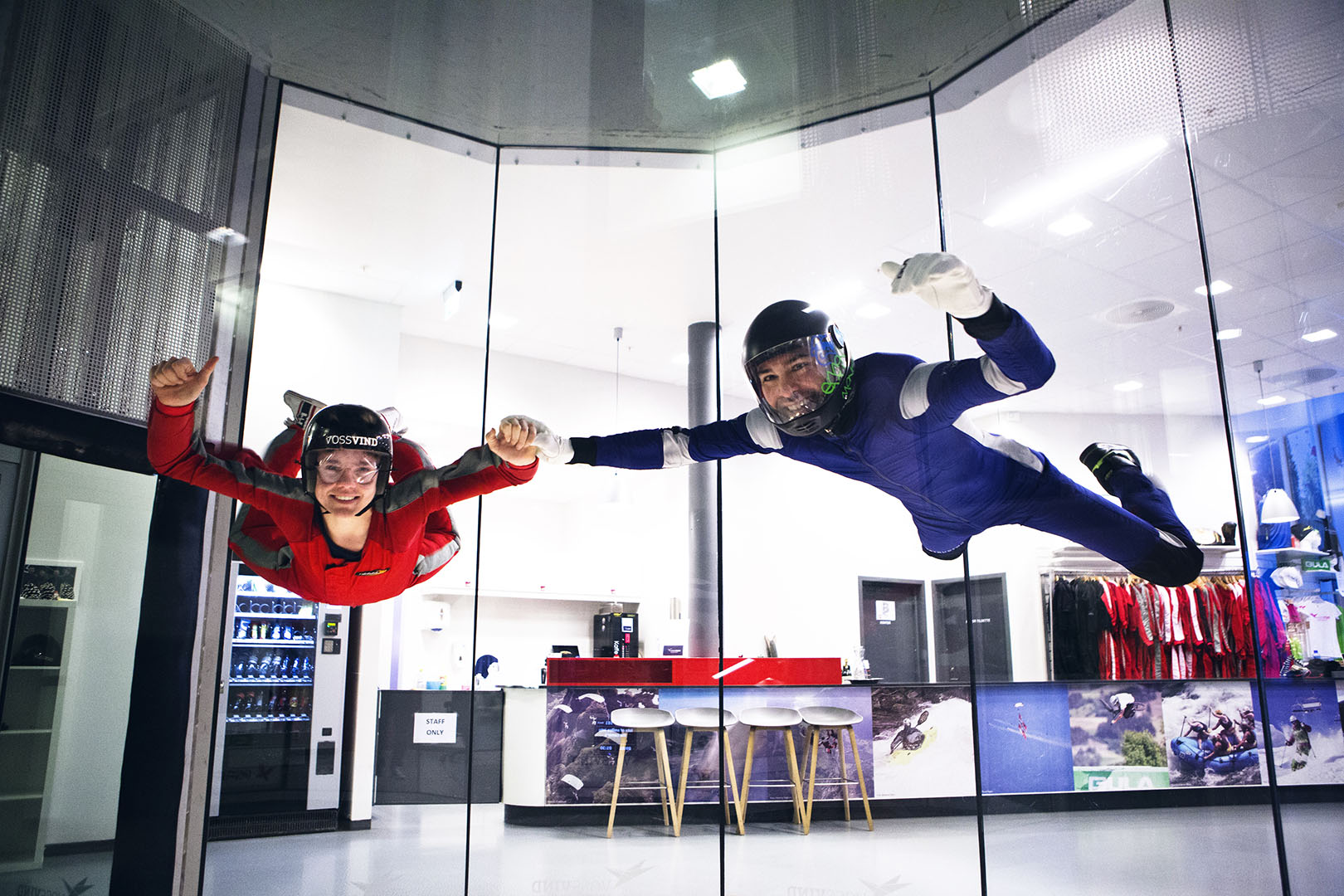 VossVind boasts Norway's first wind tunnel, letting you skydive indoors for that adrenaline rush. Photo: Andreas Roksvåg
Several clubs with experienced guides provide exciting and adventurous canyoning and rafting experiences, and the nearby high-rope and ziplining park suits team-builders, friend groups and whole families alike. Mountain bikers will undoubtedly enjoy the challenging terrain of Voss' world-class single track, and sightseers will be able to make the most of the fjord landscape trying out guided scenic rides on high-quality, full-suspension bikes. For those less inclined to chase the next adrenaline rush, Hanguren is an easy and accessible hiking area for all ages. Choosing a more challenging hike, you can summit mount Lønahorgi, enjoying the spectacular view of no less than four glaciers: Fresvikbreen, Hardangerjøkulen, Vossakavlen and Folgefonna.
Cabin 'hygge' or modern apartments
A modern and comfortable facility, Voss Resort offers self-catered cabins in three cabin areas. Most have a wood stove, cable TV, sauna, tiled bathroom, washing machine, dishwasher, fridge with freezer compartment, stove, duvets and pillows. Sizes vary from small, cosy cabins with two bedrooms, to larger cabins that have balcony bedrooms and can sleep up to 11 people. You may also choose to stay in one of the beautifully decorated, modern flats on the second floor of the service building in Bavallstunet, a mere 100 to 500 metres from the ski lifts of the resort, including a fun ski slope for the youngest. All apartments come fully equipped with their own balcony, with unbeatable views over the mountains and lake.
"We welcome everyone to experience the incredible nature and adventures available in Voss," says Vinje, with Ravndal Norevik adding: "It has lots to offer; we're proud to see it develop into an even greater destination."
The 300 million NOK Voss gondola connects Voss railway station to the top of Hangurstoppen. Photo: HLM Arkitektur.
Web: www.vossgondol.no
Facebook: Voss Gondol
Instagram: @vossgondol
Web: www.vossresort.no
Facebook: Voss Gondol
Instagram: @vossresort