We Love This – December 2019
By Ingrid Opstad | Press photos
Whether you are getting your home ready for Christmas or simply want to add a few new seasonal decorations, we have gathered some items that will help you bring a touch of Scandinavian nature and wildlife into your home this winter.
We love this Isbjørn figure from Eikund, a new company re-launching Norwegian design classics that will most definitely impress. It is a physical pictogram resulting in a beautiful interpretation of the polar bear. Originally designed in 1955 by Arne Tjomsland, known for giving shape to animals from the Nordic fauna, this beautiful figure brings a piece of the Arctic into your home. (Main image)
Eikund, 'Isbjørn' figure, small, £139
Eikund, 'Isbjørn' figure, large, £259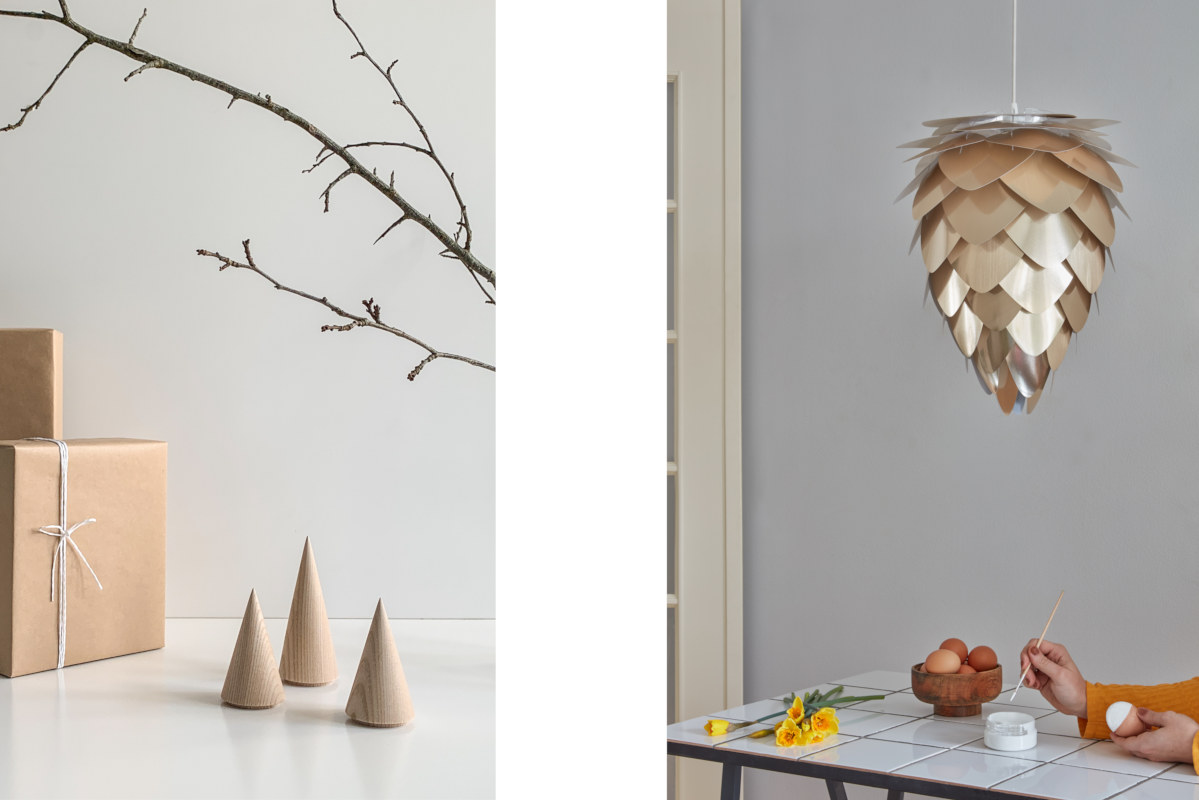 Bruun Design makes products that are inspired by a love of cooking, eating and entertaining, and influenced by the brand's Scandinavian heritage. With clean lines, a classic design and attention to detail, this trio of wooden trees, or 'trær' as we say in Norwegian, is perfect for the minimalist who wants to create a subtle, elegant and festive look. They are made from responsibly sourced and sustainably grown English Ash – what's not to love?
Bruun Design, 'Trær' wooden trees, £30
Conia from Umage has a clear design reference to nature's beauty. Its characteristic cone shape provides a soft, ambient light, making it a perfect artistic piece to illuminate every corner and dark spot in your house. The lamp is available in white, copper or brushed brass.
Umage, 'Conia' lamp, £45
Decorate your home with elegant ornaments by Lene Bjerre that enhance the holiday spirit. These pine cones and leaves have a clear nod to nature and are perfect for contributing to that magical, enchanting Christmas spirit. Mix different ornaments to create your very own, personal expression.
Lene Bjerre, 'Serafina' pine cone ornament, nature, £8
Lene Bjerre, 'Serafina' leaf ornament, bronze, £6
This simple and elegant forest rug was designed by Teresa Moorhouse for Finnish brand Mums, weaved entirely by hand with subtle 3D trees on a flat surface. It is a homage to the forest in Finland, which covers 75 per cent of the country. The rug can also be custom-made in any size, in the colours natural, deep-forest green, and light grey.
Mums, 'Green Forest' rug, 140x200cm, £497
Mums, 'Green Forest' rug, 170x240cm, £687
Mums, 'Green Forest' rug, 200x300cm, £851
Subscribe to Our Newsletter
Receive our monthly newsletter by email