We Love This – October 2019
Scandinavian design is characterised by clean, simple lines, a soft, natural colour palette, and functionality at its core. Do you need some inspiration to make your home look that little bit more Scandi? Look no further – we have a few items to get you started.
TEXT: INGRID OPSTAD
Possibly the most stylish, versatile and minimal shelving system available, String Pocket was designed in 1949 by Swedish architect Nils Strinning, and is today considered a design classic thanks to its understated aesthetic. One package comes with two side panels and three shelves, and the shelf is available in a range of colours and materials to suit your style.
(Main image) String, 'Pocket' shelf, £126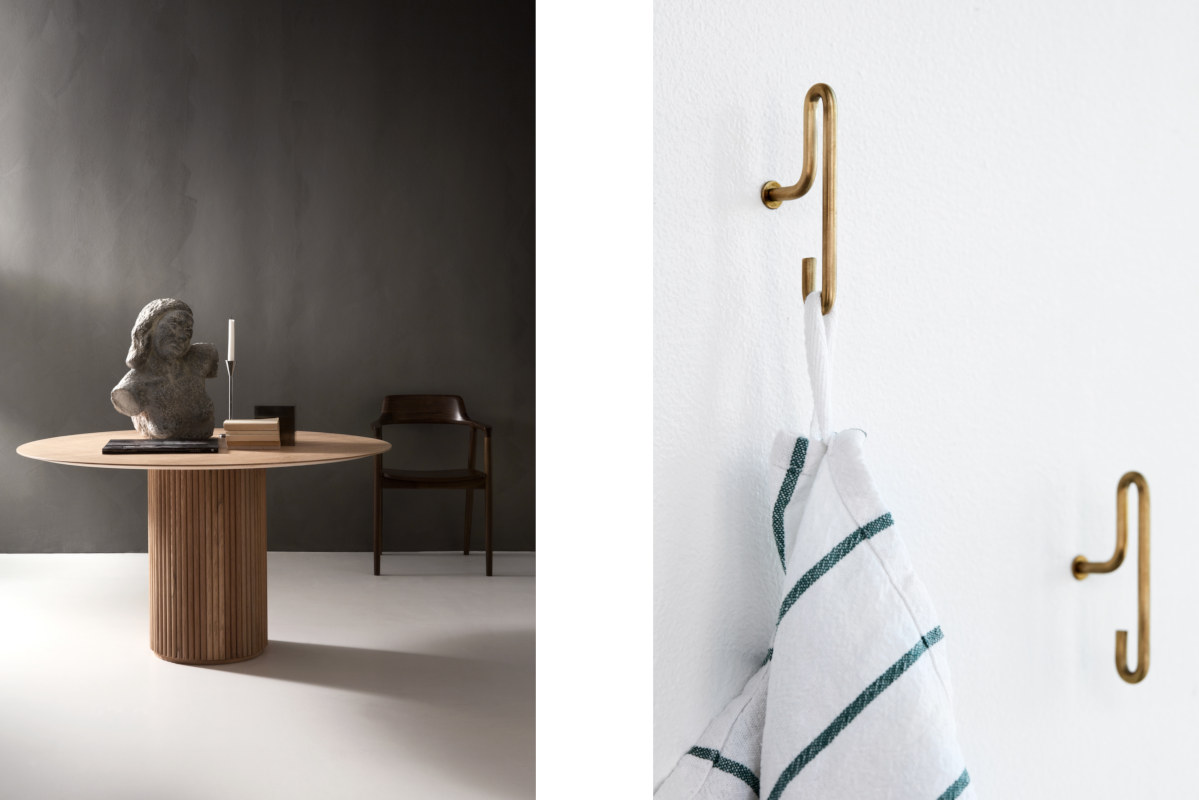 Left to right: Dining table from Asplund | Wall hook from Moebe
With its simple regality, the Palais Royal dining table from Asplund is constructed of a round table top made of oak veneer, balanced on a column-like base with oak panelling. As part of a collection designed by Anya Sebton and Eva Lilja Löwenhielm for Asplund, it has an air of the luxury and elegance found in the ancient palaces and castles of bygone days, with their columns, pedestals and wooden panelling.
Asplund, 'Palais Royal' dining table, £3,246
This beautiful wall hook is formed as one single, continuous element. To keep the form of the look as simple as possible, Danish brand Moebe turned the hook to point inwards, to achieve a closed and harmonious feel. It comes in brass, chrome and black, and fits just as nicely in the kitchen, living room or hallway.
Moebe, wall hook, small (pack of two), £20
Moebe, wall hook, large, £18

Left to right: Table Lamp from Louis Poulsen | Ceramics from Form & Refine
Taking its name from the phonetic form of the word 'you', the elegant and simple Louis Poulsen Yuh table lamp expresses designers GamFratesi's desire to create a task lamp with a personal feel. The form of the lamp is contemporary and stylish, making it perfectly suited for a minimalist, Nordic-inspired home.
Louis Poulsen, 'Yuh' table lamp, £590
The Alcoa ceramics line, designed by Herman Studio for Form & Refine, stands out with its clear and simple form. Its unique handle creates a functional, distinct and recognisable expression. The name of the line refers to the region Alcobaça in Portugal, where the ceramics hail from, a region with a natural richness of fine, white clay.
Form & Refine, 'Alcoa' pitcher, 1L, £59
Form & Refine, 'Alcoa' vase, large, £47
Form & Refine, 'Alcoa' tray, £52
Form & Refine, 'Alcoa' vase, small, £34
Subscribe to Our Newsletter
Receive our monthly newsletter by email