Wood Studio: Danish furniture icons, redesigned for the modern home
By Lena Hunter | Photos: Wood Studio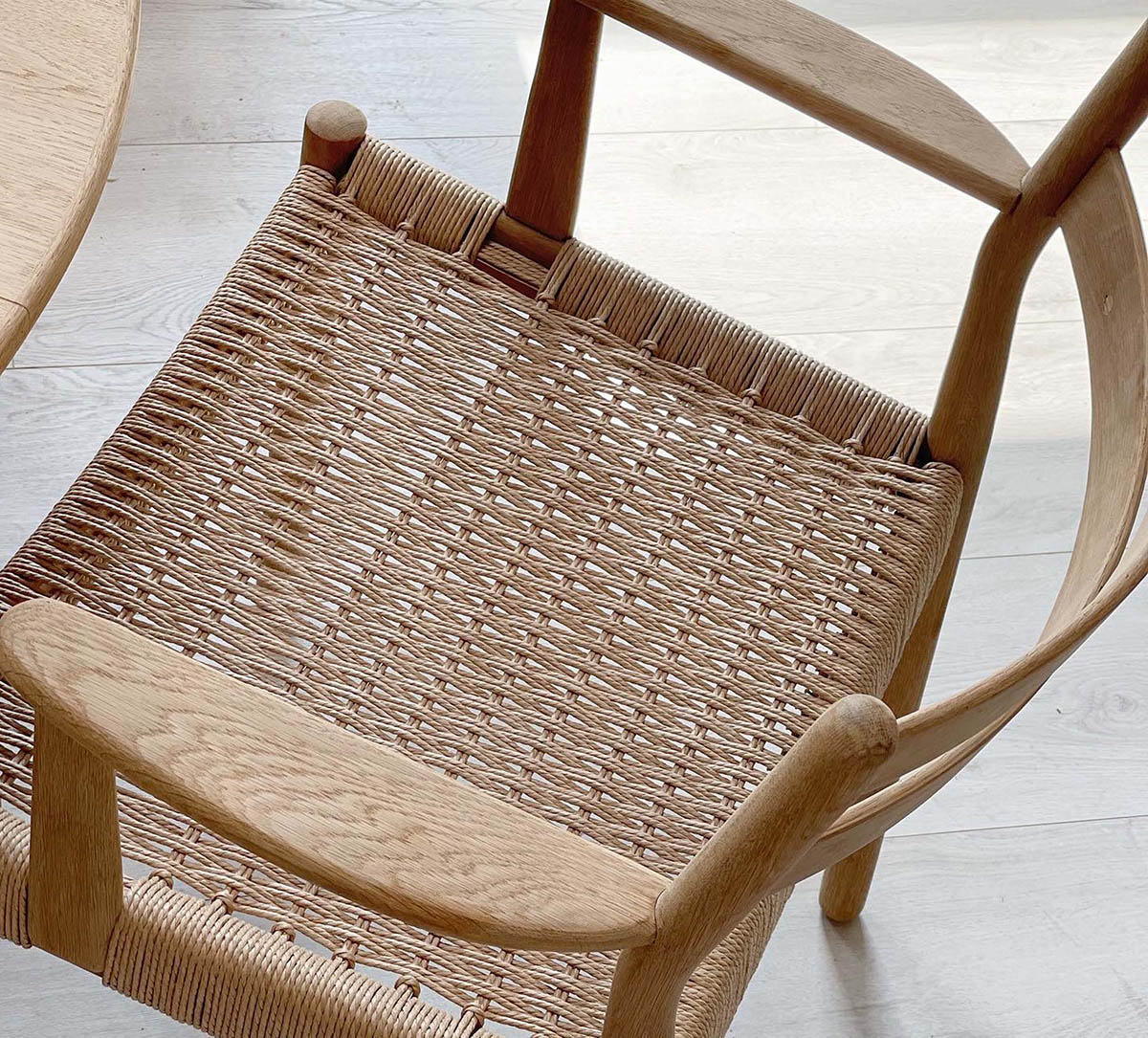 One of the most impactful features you can introduce to a room is a piece of statement furniture – and nowhere has a richer history in this realm than Denmark.
The revered mid-century Danish style is prolific throughout Scandinavia, and genuine vintage pieces are traded like gemstones, with designs by the biggest names enjoying an almost mythic stature.
At Wood Studio, a small woodworking atelier and showroom in Frederica, south-east Jylland, this elusive echelon of heritage Danish furniture is guaranteed. Though, as you might expect, the designs they offer are on a first come, first served basis.
The giants of Danish design
"We have all the icons: Hans Wegner, Børge Mogensen, Arne Jacobsen, Finn Juhl…" reels off Wood Studio founder Christina Koch Petersen, who painstakingly collects and restores the most sought-after vintage items.
Her passion is infectious and spiked with a refreshing angle: she and her team not only rescue old classics but redesign them to suit the modern Nordic home. Already pegged by Euroman and Boligliv as one of the best-kept secrets of interior design, Wood Studio is furnishing the homes of Denmark's most stylish and discerning homeowners.
Restoration – an act of love
At the heart of Wood Studio's restoration work lies a reverence for heritage and tradition. It's an act of love and an homage to a bygone craft.
Koch Petersen – who personally hunts for, buys and collects vintage items from around Denmark – understands this on a deep level. "For me, it's pure passion," she explains. "I love Danish design, so I found an experienced carpenter and asked him to train me. I learnt all the old craft techniques. I use original tools that I've sourced from old woodworking studios, and we keep all the screws from old furniture."
This is what makes the work of Wood Studio is so unique. "When we restore furniture, it's artisanal, using the original materials. Things are repaired just like they would have been repaired in 1950," says Koch Petersen.
Redesign – improving the classics
While original and restored furniture by the likes of Wegner and Juul is touted as among the most desirable design on the modern market, at Wood Studio nothing is too sacred to be updated. "If a vintage cabinet has plinths, we'll design legs to elevate it off the ground. It gives an 'airy' feel that you didn't have back in the '60s. Back then, a more blockish look was in vogue," explains Koch Petersen.
Another common facelift is the addition of cane webbing and paper cords – a technique steeped in the traditions of Danish carpentry. In fact, Wegner and Mogensen pioneered it in the '40s with the respective iconic Wishbone Chair and beloved J39 'folkestol'. "Whether its Wegner or Mogensen, we'll redesign it so that it's contemporary, so you don't have to have a retro home – retro is banned over here!" laughs Koch Petersen.
Preserving the best
Some of the most exciting pieces to pass through Wood Studio are of Wegner's exclusive Ry Series – a highly collectable cabinet series with narrow, elegant lines, typical of his style. "It's incredibly rare in oak, and there's very little in general left in Denmark," says Koch Petersen. It's no stretch to call this era of design one of the most important artistic contributions to Denmark's national image.
Nevertheless, a few pieces have found their way to Wood Studio, which prides itself on preserving collections like Wegner's Ry, and passing on the cultural heritage to future generations.
Green at heart
Restoration and redesign might be inherently green, but Wood Studio pushes sustainability to another level, using a standard they dub the '90/10' approach. "In the climate debate, where we're saying we need to manufacture renewable energy – it's only to be able to maintain a usage that is already completely crazy, rather than to focus on actually using less," says Koch Petersen.
That's why Wood Studio implements a circular economy in which at least 90 per cent of every product is second-hand. What's more, all paint-strippers and chemicals are biodegradable, and through a new collaboration with reforestation project Growing Trees, a tree is planted every time an order is placed.
Pre-loved and re-loved
As we become more turned off by the cult of the new, Wood Studio offers a beautiful alternative. Its portfolio of pre-loved and re-loved classics is easy on the eye as well as the conscience.
But where they really shine is their fearless design creativity, based on an honest respect for quality carpentry. "I have a deep-seated passion and a humility for what has gone before us. For me, Danish design is almost on an equal footing with the Golden Horns – it's such an important part of our history. So to be able to move that into a new era is fantastic," says Koch Petersen.
Web: www.woodstudio.dk Facebook: woodstudiodk Instagram: @woodstudio.dk
Subscribe to Our Newsletter
Receive our monthly newsletter by email