Woodnest: A story of love, a treehouse and being close to nature
By Heidi Kokborg
The story of Woodnest is a true love story. Almost from the moment Kjartan set eyes on Sally, he knew that he wanted to build her a treehouse to propose in. Fast forward a few years, and the couple are happily married. And the treehouse? Well, that has turned into Woodnest, and now everyone can have their own little fairytale in the most magical surroundings in the small Norwegian town of Odda.
Nestled between two of Norway's largest national parks, Hardangervidda and Folgefonna in Odda, you'll find Woodnest. Tucked away from the hustle and bustle of city life, it offers a magical experience. Imagine sipping your morning coffee while enjoying breathtaking views of the fjord, taking a hot shower surrounded by nature in a treehouse – and no need to leave the nest, because all your comfort and adventure is right there, within the 15 square metres, five metres above the ground.
"From the intricate details of the outward structure to running your fingers along the fine woodwork interior, and of course the stunning views, we want our guests to gasp, 'Wow!'," enthuse Kjartan and Sally Aano, the owners of Woodnest. "Together with Norwegian architects Helen & Hard, we put great effort and attention to detail into making these treehouses one-of-a-kind designs in authenticity and originality."
But despite being in the middle of wild nature, this is far from a camping experience. In fact, you will enjoy a high level of comfort. Take a relaxing, warm shower, use a normal flushing toilet, brew a fresh cup of coffee and cook your dinner in the small kitchenette – all this, up in one tree top.
"For us, it is about sharing this love for a childhood dream of a treehouse with others and giving them an experience that will last a lifetime," says Sally Aano.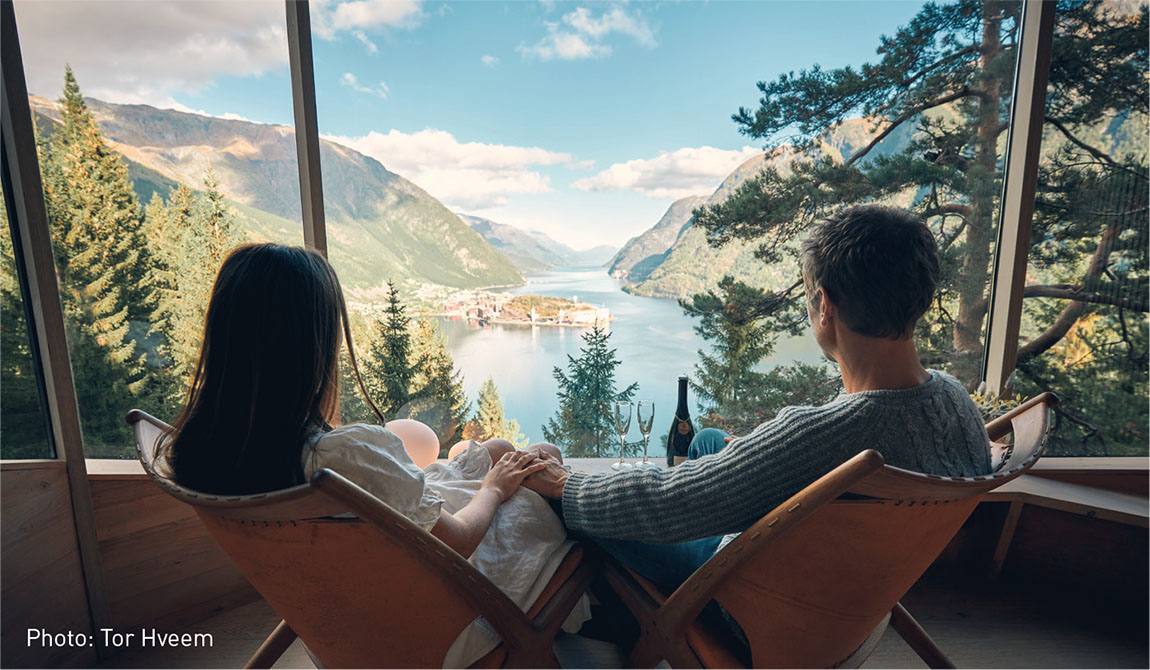 A proposal turned small family business
As if the architecture, the magnificent views overlooking the fjord, and the pure experience in itself of staying in a treehouse were not enough, the story of Woodnest is one filled with the kind of love that will touch even the most unromantic of hearts.
Kjartan and Sally Aano met at a wedding in Australia. Kjartan had never been to Australia before, and he only spent three weeks there. When he saw Sally at the wedding dinner, he couldn't take his eyes off her. The groom noticed this, and he made sure that the two of them got to dance. Unfortunately for Kjartan, dancing is not exactly his forte, so that proved to be a rather embarrassing experience. But luckily for him, Sally still found him interesting the next day. They started to talk about the film The Bucket List and decided to write their own.
"I had written that I wanted to sleep or live in a treehouse. Kjartan had written that he wanted to build a treehouse. We were shocked that we both had something so specific in common," says Sally Aano.
At that moment, Kjartan thought to himself that if he were to ever marry this woman, he would build her a treehouse to propose in.
After a year of long-distance romance, Sally took the plunge and moved all the way from Australia to Norway to be with the love of her life. Kjartan had secretly started to work on a treehouse in the woods, and Sally, who had no idea what was going on, got a bit frustrated that he was never at home – but then, one day, something magical happened.
Right there in the woods, ten metres above the ground in the self-made original treehouse, she gave him her 'yes'. And from there, Woodnest grew organically. Friends and family wanted to see the treehouse, and the newly married couple started to dream about sharing it with others and making it into a business.
"We had no experience of starting up businesses, and managing to finance the project required a miracle in itself, but we were willing to take a risk to see a dream come true and do something we love. We would not have done it if it wasn't for each other. We are very good at cheering each other on," say the couple, who are now busy planning the next two treehouses, which will be finished by the summer of 2022.
Woodnest is located in Odda, Norway. There are currently two treehouses. The drawings for two more are finished, and they are expected to be ready by the summer of 2022. Web: www.woodnest.no Facebook: Woodnest Treehouse Instagram: @_woodnest_ Architects: Helen & Hard
Subscribe to Our Newsletter
Receive our monthly newsletter by email