World Water Week: A venue for water
Text: Hanna Stjernström | Photos © World Water Week
A s the problems concerning access to water increase, so too do the possibilities for solutions. World Water Week, convened by Swedish International Water Institute (SIWI), is encouraging the private sector to take on a larger role as the forum moves to the modern multi-purpose stadium, Tele2 Arena. Driven by experiences and perspectives from all over the world, the forum provides an opportunity for ground-breaking ideas and actions, focussed on one of today's most difficult challenges.
Did you know that, according to the 2030 Water Resources Group, the demand for water is expected to exceed supply by around 40 per cent by 2030? Such a scenario would leave nothing and no one unaffected. The problem is further highlighted by the current water scarcity that leaves over two billion people living in countries with high water stress. "Access to fresh water is one of the world's biggest challenges," says Gabriela Suhoschi, director of World Water Week and Prizes at SIWI. The challenges with water and the effects of the changing climate have been particularly notable over the past few months. "Scandinavia has had the warmest summer in 260 years, with a lack of substantial rain since May," Suhoschi notes. "And, although we are a water-rich region, this has led to a situation that we are not used to or prepared for." The consequence, she stresses, is that we must change our relationship with water.
Water, ecosystems and human development
However, there is hope. World Water Week is an annual forum dedicated to gathering experts, decision-makers and young professionals with the aim of developing solutions for water-related challenges. This year's event marks the 28th in a row, and will address water, ecosystems and human development between 26–31 August in Stockholm, Sweden.
SIWI built the foundation for World Water Week in 1991, with three water-themed and interlinked events: The Stockholm Water Festival, which celebrated water; the Stockholm Water Symposium, which focused on global water challenges; and the Stockholm Water Prize, which was awarded in recognition of exceptional achievement by H.M. King Carl XVI Gustaf of Sweden.
With time, the festival and symposium have evolved into World Water Week, which has, in parallel with the increasing magnitude of water-related challenges, raised the voice of driven and passionate providers of solutions and innovations from all over the world. "We are creating a collaborative and inclusive learning experience," says Suhoschi, highlighting that the main focus is on promoting greater awareness and discussions. The event has engaged more people every year, receiving increasing attention globally, and its organisers have now decided to take the next step.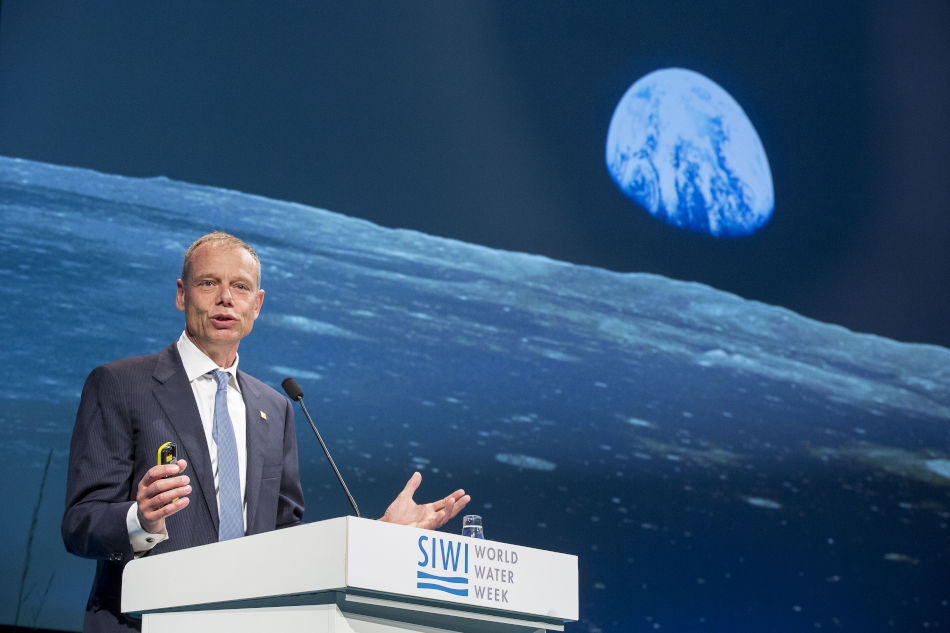 One drop at a time
Last year marked the beginning of a new chapter as the event included showcases for the first time, to encourage organisations to share their experiences and perspectives on water. As the event has continued to grow and increase engagement, it has been a natural step to move to Tele2 Arena, enabling organisers to invite and include more organisations. "The venue will offer new opportunities for partners, more space for exhibitors and more networking opportunities," Suhoschi explains, adding that the goal, in coming years, will be to create a World Water Week village. Next year's event will be the first to be held at Tele2 Arena in Stockholm — a move that represents one small step for World Water Week, and possibly a giant step for Earth.
As Scandinavia is approaching the end of one of the warmest summers in centuries, it has become clear that water security is decreasing. World Water Week urges more industries in the private sector to get involved in the discussion. "We would like to see a higher representation from the high water-use sectors over coming years — such as industry, energy, agriculture, food, and the private sector generally. We also invite the innovation and technology community, which is particularly strong in this part of the world, to get involved," Suhoschi says. The new venue offers endless possibilities to build bridges between industries, communities, young professionals and experts, which is vital in order to reach a holistic conversation. "We want to bring together both high water users and those who can contribute to solutions," she says, adding: "We need to act now — tomorrow might be too late."
World Water Week in numbers -3,300+ registered participants -1,300+ participating organisations -250+ sessions -125 countries -2 honourable awards For more information, please visit: worldwaterweek.org siwi.org Or contact: rowena.barber@siwi.org - External relations
Subscribe to Our Newsletter
Receive our monthly newsletter by email