Yasuragi: Feel the full impact of 'the Yasuragi effect'
Text: Malin Norman | Photos: Yasuragi
Yasuragi is somewhat of a magical place. With a pioneering Japanese hot-spring concept, it highlights another way of living that is more sustainable. It promotes health and reduces stress, which has an impact on creativity, collaboration and empathy.
Located at Hasseludden, just 20 minutes east of central Stockholm, Yasuragi offers stunning views of the archipelago. The building itself was designed by Japanese architect Yoji Kasajima in 1972 and used as a conference centre before its transformation into a Japanese-style hotel in 1997. Owner Petter Stordalen took over in 2006, and since then, the hotel has been continuously updated, including an extension by White Arkitekter.
What is unique about Yasuragi is that it is primarily a Japanese bath, not a traditional spa. It feels just like visiting a real 'onsen' in Japan, and not just the baths are authentic – the restaurants, the hotel and the gardens are Japanese, too. The concept is based on the principal idea that all people need stillness, beauty and harmony – and it is all about simplicity.
A 360-degree perspective
"People talk about sustainability, but sometimes it's just used as a trend word and doesn't say much. Instead, we talk about 'the Yasuragi effect', which is both complex and simple," says Per Keller, CEO. "Basically, we are looking at sustainability from a 360-degree perspective, including everything from impact of food on humans and earth to how we can affect the overall wellbeing of people in the sense of both physical and mental self-awareness. The foundation is all about reducing our climate impact as far as possible. The next layer is where we look at how we can help people live more fulfilling lives. This is something we have been doing for many years; it's in the DNA of Yasuragi."
Keller elaborates further on the idea behind the approach: "These days, by default, we tend to have a stress level that we think is normal, but which is actually very unhealthy. To counteract stress, we use the Japanese bathing rituals, but we also look at what we eat and how we treat each other in our relationships to other people, and provide practical tools for how we can live more sustainable lives. This is what makes for the 360-degree effect, which we call 'the Yasuragi effect'."
And the effect is being noticed. Recently, Yasuragi has been nominated by 360° Eat Guide, a new restaurant guide, rating Nordic establishments, in the hotel category. The venues are judged on the basis of both gastronomy and sustainability, including assessments on how they work with food waste, water use, menus, communication and education.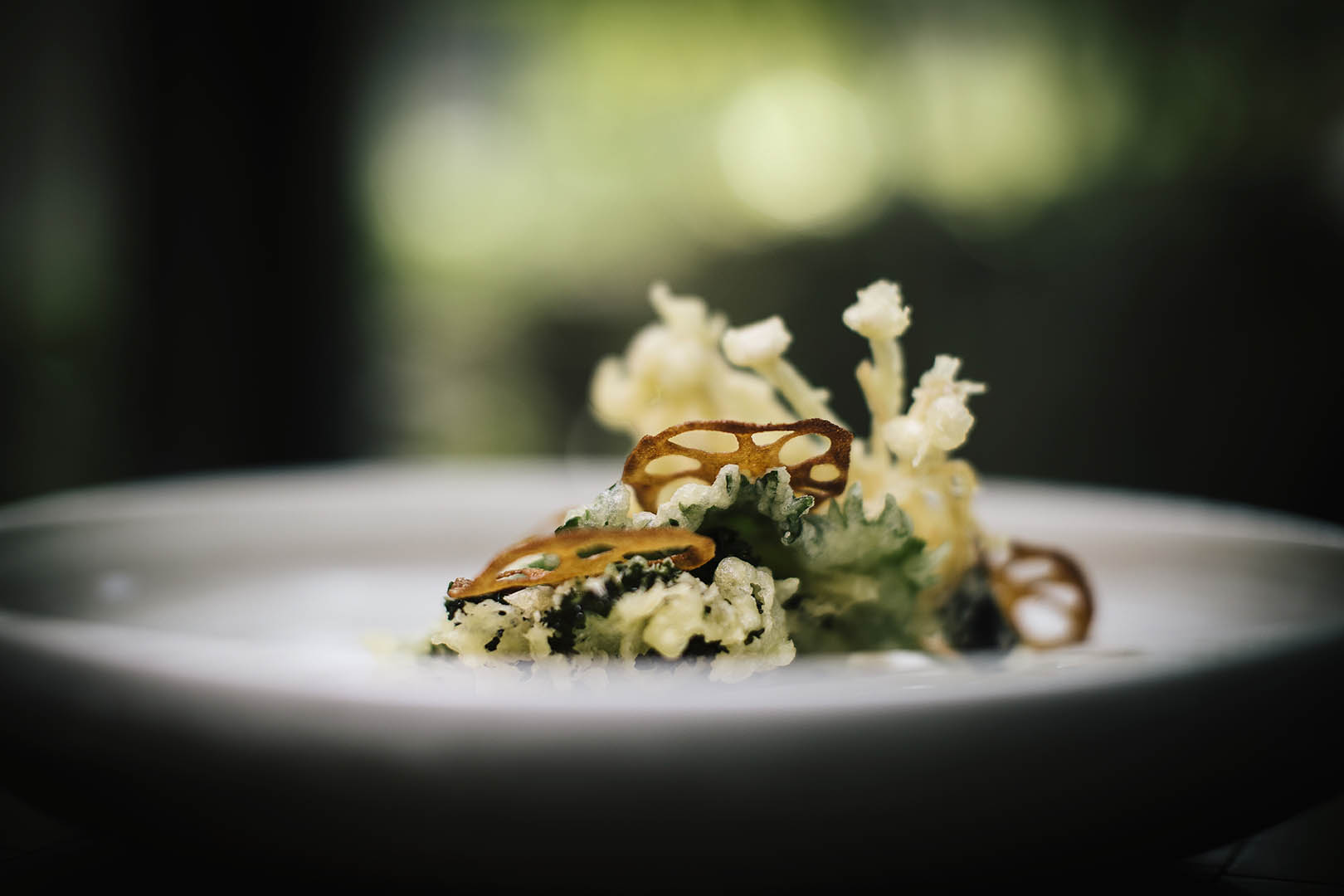 Stillness, beauty and harmony
Water and trees are considered healing and essential components for us humans. In addition to the hot springs inside and out in nature, which make the foundation of the Yasuragi experience, there is a bath house inspired by Japanese courtyards in its architecture. Here, you will find the cavern bath, a carbonated spring, a rest sauna and more. To really unwind both body and mind, Yasuragi offers different types of treatments and activities to choose from, including Zen meditation and a journey of sounds with Tibetan singing bowls.
Visits always start with the age-old Japanese bathing ritual, where you sit on a wooden stool, wash yourself and then repeatedly pour buckets of water over yourself. This is a form of peaceful purification, to let go of everyday worries. Like at a Japanese onsen, you get a 'yukata', a cotton bathrobe, which you wear throughout your stay – in the baths, during activities and treatments, and when you eat.
The Yasuragi effect certainly brings the visit to another level for both private and corporate guests. For instance, you can kickstart your team during a conference, with time to reflect and set new goals for the future. "Our concept promotes health, reduces stress and has a positive impact on creativity, collaboration and empathy," confirms Kersti Olophsdotter, head of brand. "This is why many companies decide to run their team events in this serene environment at Yasuragi."
Web: www.yasuragi.se Facebook: yasuragisweden Twitter: @YasuragiSweden Instagram: @yasuragisweden Linkedin: @Yasuragi – Japanese Spa- and Conference Hotel
Subscribe to Our Newsletter
Receive our monthly newsletter by email