Banwood: Riding on childhood memories
By Nicolai Lisberg | Photos: Banwood
Banwood have already designed a successful line of children's bikes with a vintage touch, and now they are launching the Banwood Maxi Scooter, complete with the label's iconic wicker basket.
"My first bike was a red Crescent from the '80s that I inherited from my siblings. It was a beautiful vintage bike with straight lines and retro details. I remember riding it all day until it got dark and my parents had to call me in. It is that nostalgic feeling of losing track of time while playing outside that we want to transfer to today's children."
Those words belong to Frida Jonsby who, together with her partner Juan Manuel Torralvo Castro, founded Banwood Bikes back in 2016. They were on the lookout for a bike for Juan Manuel Torralvo Castro's niece, but did not like what they found, so instead they began working on their own line, a mini version of a classic, Scandinavian-design bicycle.
Since then, Banwood have sold bicycles and tricycles all over the world and merged kid's products into fashion and art via collaborations with brands such as Liberty London, Anthropologie, Bonton, the contemporary artist Marest, and even designed an exclusive limited-edition bike with the Iconic French lamp house Rispal.
The signature touch
After the success with the bikes, Banwood began working on scooters. The first one was a three-wheel scooter for kids up to age five in six different colours, and now they are ready to launch their new two-wheel scooter for ages six plus.
"It is designed with a timeless vintage style, without sacrificing functionality and safety, giving kids the ability to develop as individuals and increase their self-confidence while having fun. And just like with our bikes, the scooters come with our beloved wicker basket, so kids can bring along their favourite toys," says Jonsby.
The Banwood Maxi Scooter comes in six carefully selected colours and is equipped with an ergonomic T-handlebar that can easily be adjusted to your kid's height, a lightweight aluminium frame, classic steering system, vintage-inspired rubber grips and a wooden oak anti-slip deck for a safe ride.
"When designing the scooter, we wanted the design to have a cute, soft, rounded shape and to pay attention to the details by using natural materials like oak. As a mother, I know it can get messy with so many kid's products around. I want parents to feel that our products can melt into their interior design and can even be used as a decoration in the kid's rooms," says Jonsby.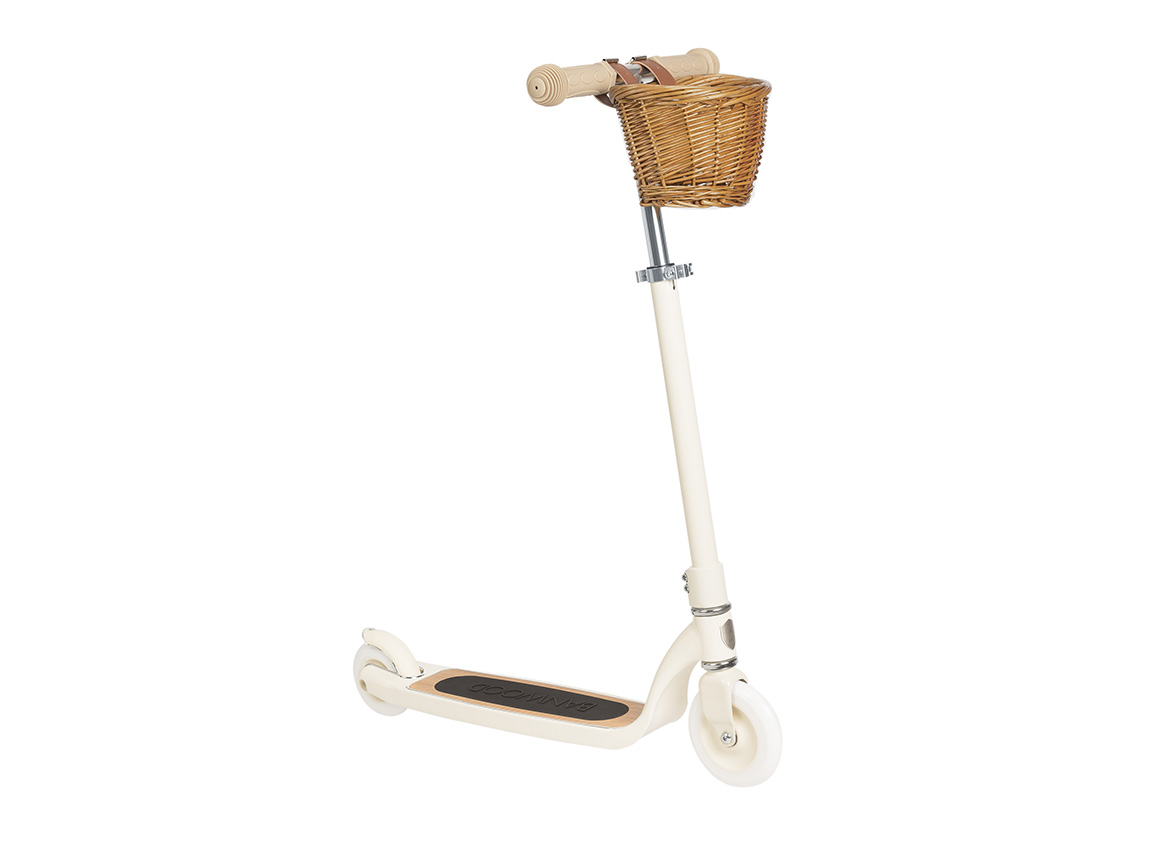 Web: www.banwood.com Instagram: @banwoodbikes
Subscribe to Our Newsletter
Receive our monthly newsletter by email