Mariager Fjord
Unplug and connect with nature
TEXT: SIGNE HANSEN | PHOTOS: VISITMARIAGERFJORD
MAIN PHOTO: With its beautiful landscape and idyllic towns, Mariager Fjord has long been popular with holiday makers.
Sleep in a tree-top hut, explore the calm waters of the fjord, or just lie back and relax on a white sandy beach – if you are looking to get away from the hustle and bustle of everyday life, Mariager Fjord, Denmark's longest fjord, is the place to go.
With its lakes, streams, woodlands and beautiful fjord, the municipality of Mariagerfjord is a true paradise for nature lovers of all ages. Long known as a destination for travellers seeking peaceful and soothing surroundings, the area's tourist organisation has in recent years built onto the natural attraction of the landscape with a number of offers to allow visitors to enjoy its beauty in both exhilarating and restorative ways.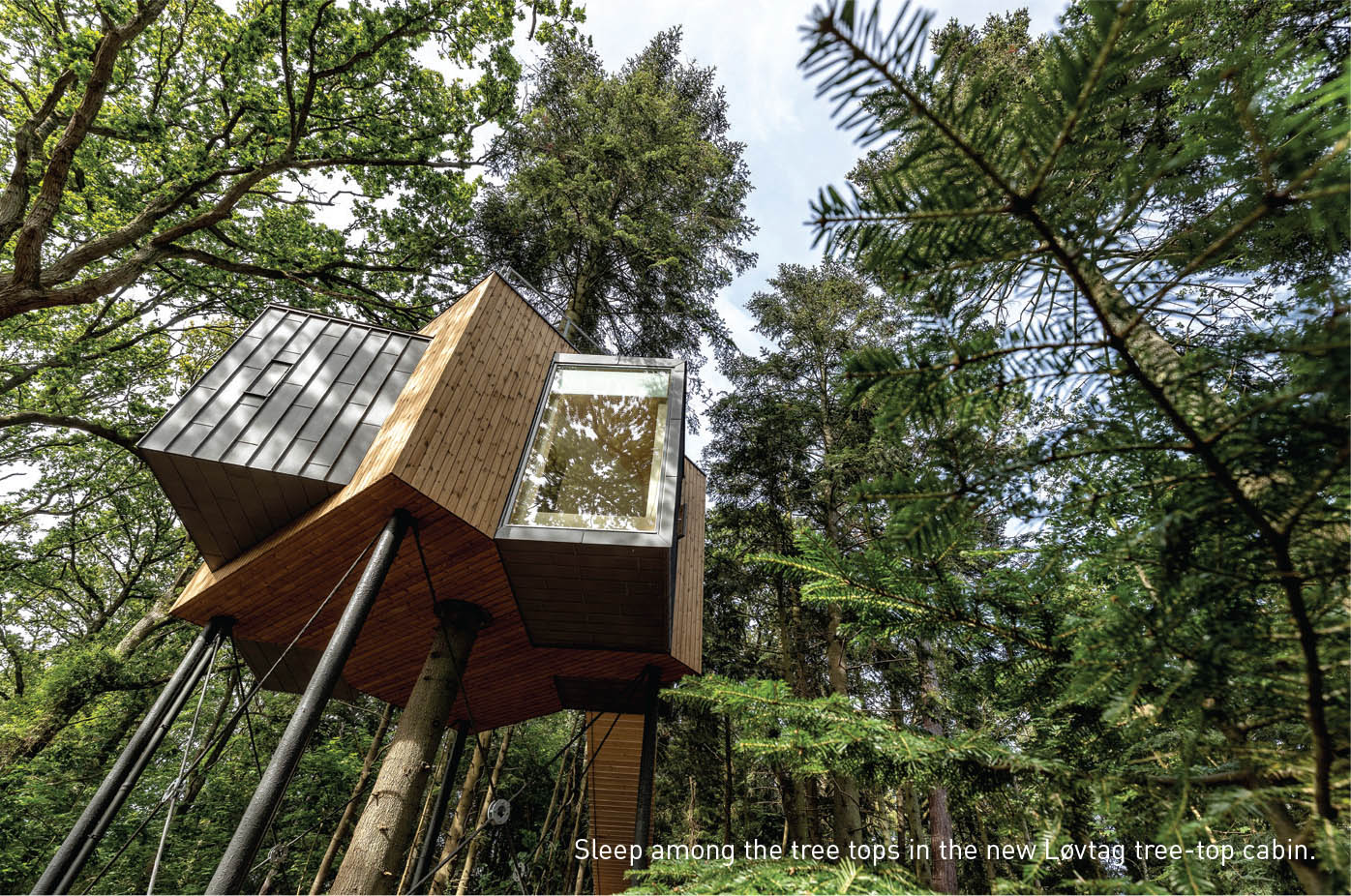 One of the newest additions is the new Løvtag tree-top cabin, which enables visitors to go to bed eight metres above the forest floor and wake up to the sound of birds and the gentle sway of the tree trunks – one of which grows straight through the small tree-top hut. "It's got everything you need: bathroom, electricity, a small kitchen, and a wonderful rooftop terrace, where you can drink your morning coffee," explains head of tourism at VisitMariagerfjord, Kristina Lehmann Schjøtt. "But, of course, no TV or Wi-Fi – spending the night among the trees is a simple and beautiful way to get away from a busy day-to-day and find that mindful connection to nature that many seek."
Officially inaugurated just two weeks ago, the tree-top hut has already garnered much interest from near and far, with many international travellers among the numerous guests who have already booked a stay.
Get lifted up
While the tree-top hut invites travellers to spend the night in nature, there are dozens of activities around the Mariager Fjord that enable visitors to get just as immersed during the day. Angling, stand-up paddle boarding, hiking, cycling and kayaking are just some of the activities that allow visitors to explore the unique landscape of the area. "The varied landscape was one of the reasons why our Panorama route became the first Danish walking route to become a certified Premium Walking Trail by Deutsches Wanderinstitut," says Schjøtt. Accessible to most, the ten-kilometre trail starts out at Hobro Marina and then continues along the inlet of the fjord and through a changing landscape of woodland, hills and small towns.
Another area to explore on foot or bike is Rold Skov, which, with its 8,000 hectares, is Denmark's largest forest. Horseback riding and swimming in the many lakes are also excellent ways to enjoy this unique natural attraction.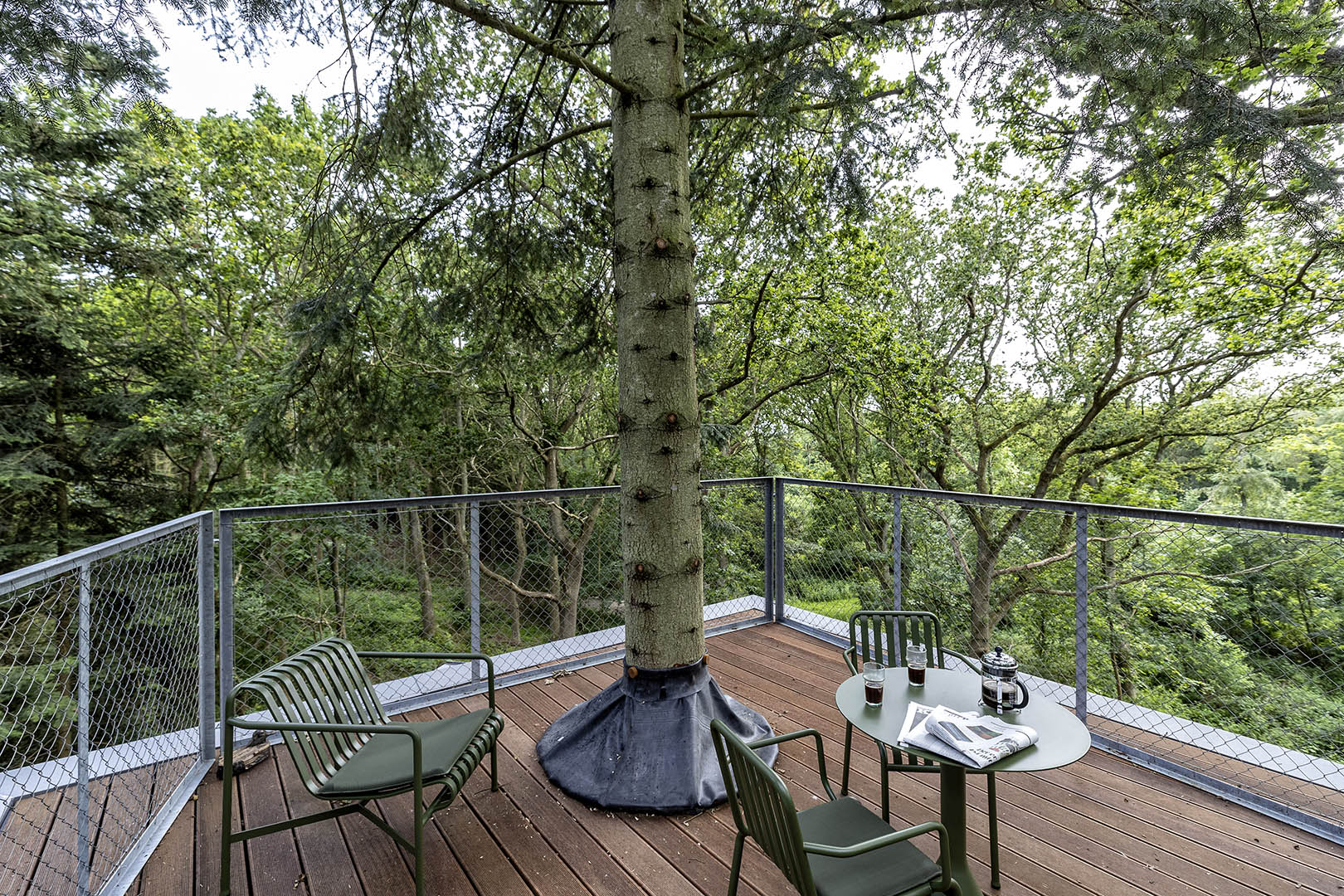 Lie back and relax
On top of the many natural attractions, a string of independent galleries and small towns are dotted along the Mariager Fjord. One of them is Mariager itself, an idyllic town with cobblestone streets and old, timber-framed houses. The town's biggest attraction is Mariager's Saltcenter, which, with 'subterranean' salt mines and the chance to swim in 'The Dead Sea', offers an experience for visitors of all ages. Another popular family attraction is the Fyrkat Viking Centre, located a couple of kilometres outside of Hobro. The centre consists of the ring-shaped mound marking where the ring fort Fyrkat stood 1,000 years ago, and a reconstructed Viking Farmstead offering a number of authentic Viking activities such as archery and forging.
But though there are plenty of opportunities to get active and explore the landscape, culture and history of Mariager Fjord, there are other options too – for instance, draping a towel on top of the white sand, lying back, and listening to the waves softly rolling in over the sand. With an array of beaches in the area – including Øster Hurup, known as the most child-friendly beach in Denmark – there are plenty of opportunities to do so. "In recent years, we have created a lot of new offerings and activities, but the main attractions of the area are still the nature and the fjord," stresses Schjøtt, and rounds off: "We like to say that Mariager Fjord is Denmark's most beautiful fjord, and the reason we think that is because it's very unspoilt – it's an authentic experience, and that's what people want."
Facts:
Mariagerfjord is a municipality in North Jutland, Denmark.
The municipality covers an area of 723.63 square kilometres.
With a length of approximately 35 kilometres, Mariager Fjord is the longest fjord in Denmark.
The main towns along the fjord are: Als, Als Odde, Helberskov, Hadsund, Hobro, Mariager, and Øster Hurup.
Subscribe to Our Newsletter
Receive our monthly newsletter by email