Rune & Berg Design: Designs that make a change
Text: Ndéla Faye | Photos © Aleksi Tikkala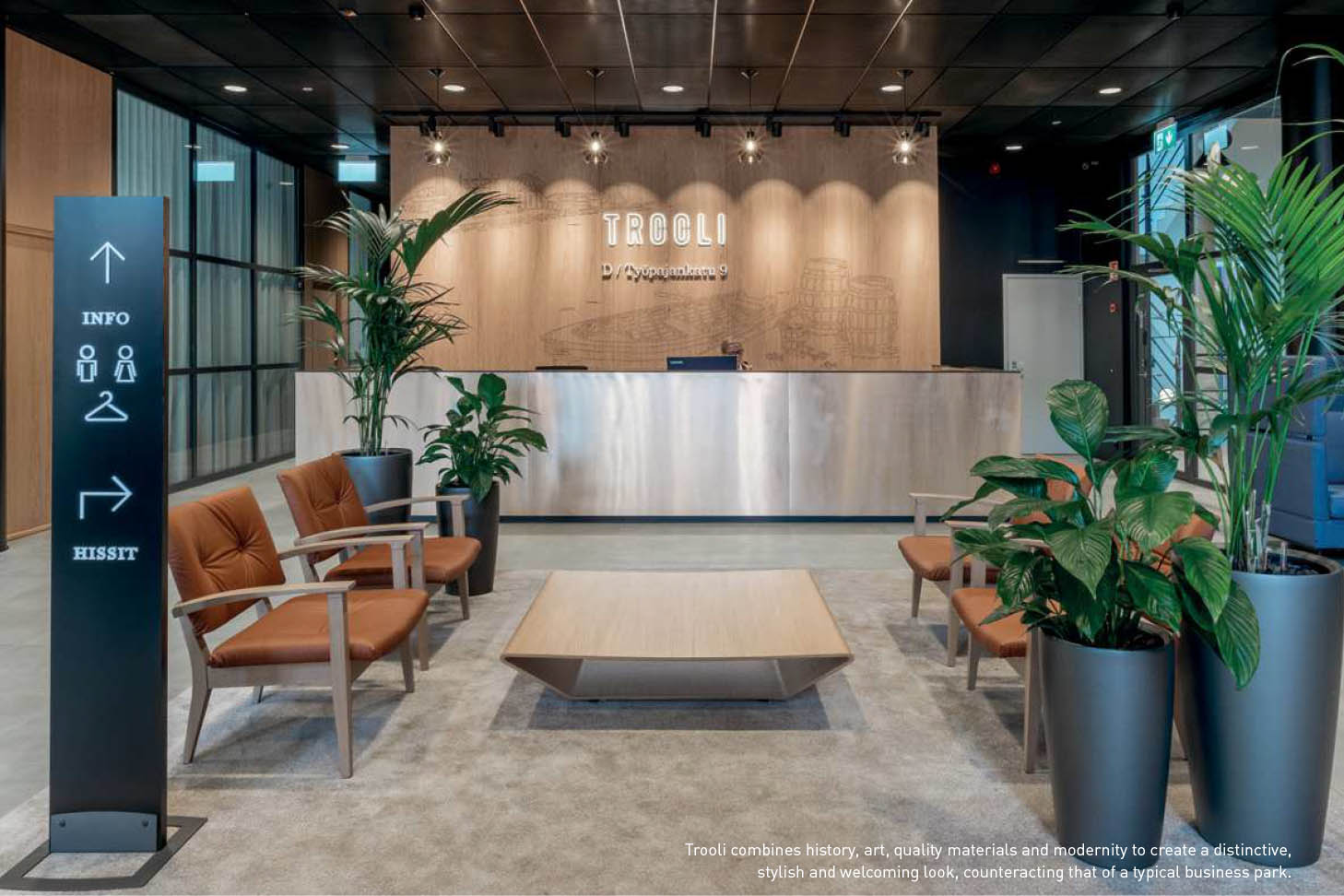 S pecialising in customer experience and business culture, Rune & Berg is a design company that combines brand development with strategic and insightful visual design. With the team's extensive knowhow and multi-skilled background, the agency is able to offer clients an all-round service, delivering user-focused designs that have the potential to make a real change to people's lives.
Rune & Berg Design's story began in 2011, when it included just three designers. Seven years later, the agency has grown into an 18-strong team of professional, versatile and enthusiastic designers. Focusing on corporate culture and customer experience projects, Rune & Berg Design is able to cater to a number of clients, and their knowhow includes spatial design, graphic design, service design and more.
For the design agency, the most important thing for a successful project is to understand the client thoroughly. "We aim to understand how our clients operate, their company's culture, goals and visions, how their everyday life works, and to figure out how we can make it better, more functional and more inspiring," says Hanna Herkama, designer and partner at Rune & Berg Design. "Our clients trust us completely, which is shown through increasingly larger and more versatile projects in all areas. We've managed to grow together, and our team works incredibly well together. Each of our wonderful and creative team members is an expert in their own field, and they are able to grow and develop professionally here."
Creating meaningful human experiences
At the heart of all of Rune & Berg Design's projects is an ambition to create meaningful human experiences that are more than just moments of instant gratification. In 2017, Rune & Berg Design had the opportunity to work on a unique project, the Myö Hostel in Helsinki. The hostel's aim is to provide its guests with a pleasant and memorable stay, while offering jobs for people with disabilities. "From the very beginning, we knew we wanted to be involved with this project. We felt really strongly about the cause and felt that we needed to do our bit for it," Herkama explains.
"We spent a long time together with the amazing founders, Jenny Närhinen and Maiju Sundvall, mapping out their and their employees' wishes, needs, activities, as well as potential issues. We kept the experience of the users – the management team, employees and guests –  in our minds at all times, and managed to identify their needs and come up with solutions and ideas. The concept quickly began to flesh out, and so we moved from an idea into a physical space – and eventually Myö Hostel became real," says Herkama.
The end result is a boutique-style hostel brand that can be experienced with all five senses. "We created a brand where people and the space itself could co-exist seamlessly, and where the urban city and nature are in a dialogue with each other," Herkama explains. From the small details, including the use of bold colours and unique, hand-drawn wallpaper designs, to making signage easily accessible and inviting, Rune & Berg Design's touches add to the charm of the cosy and friendly hostel.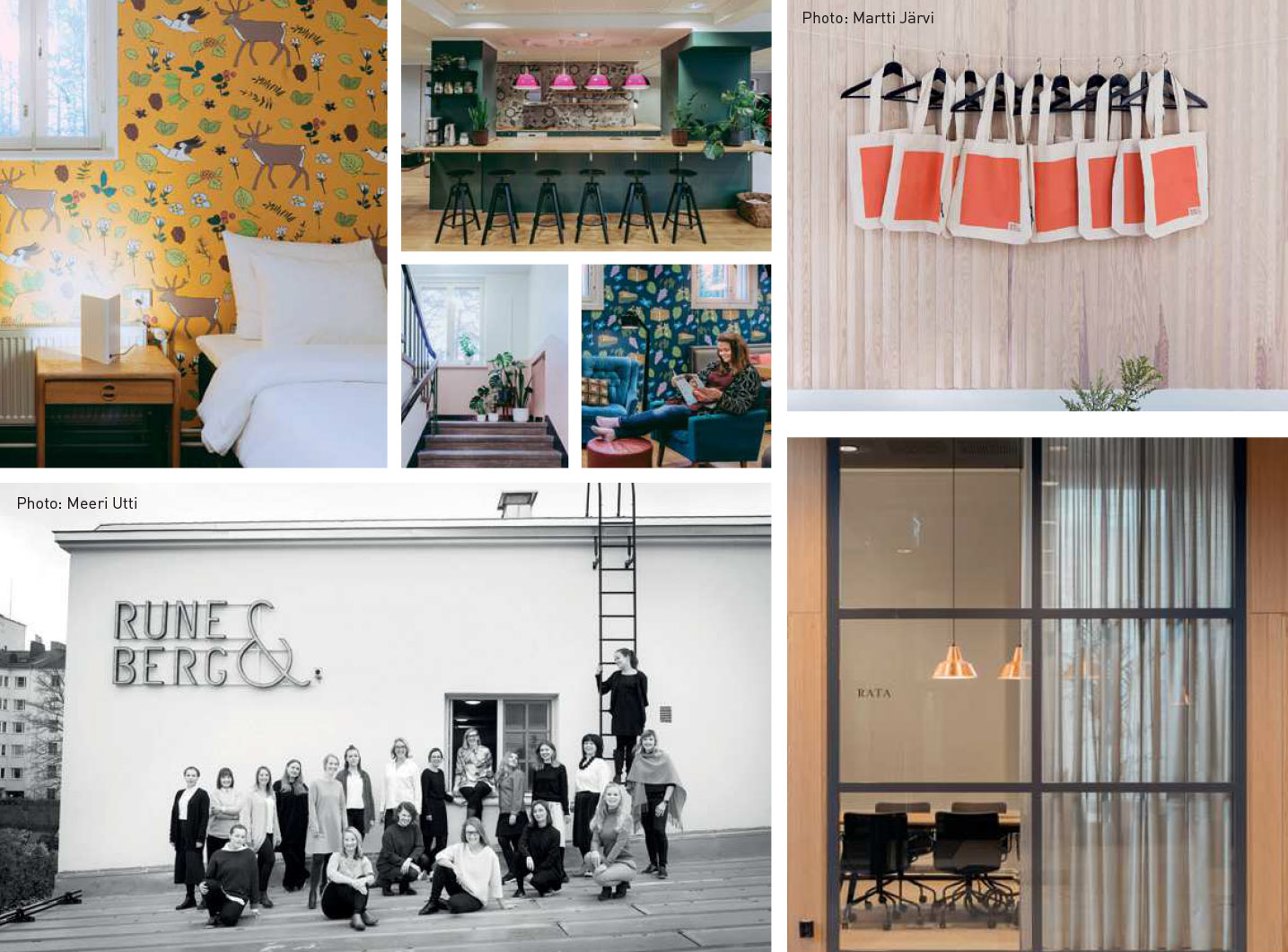 Versatility on the inside and outside
Another of the agency's recent projects included the transformation of a bland office block in Helsinki into an inviting, multifunctional building. As a result, Trooli was born. Instead of a typical business park, visitors get the feeling of walking into a hotel lobby or restaurant, and the building's visual image mixes artisan spirit with laid-back hipster style. The building is an inviting and quirky space that users find welcoming and comfortable. "We created a space where the history, art, quality materials and modernity are combined. The end result is a relaxed, stylish and distinctive look inside and out," says Herkama.
"We've been told we're one of the first versatile design agencies in Finland that truly approaches the world from a user-oriented and multidisciplinary point of view. We want the entire design process to add value to our clients, and mutual trust is very important for the success of every project we undertake. We believe in the power of working together, and the world is an endless source of inspiration for us. Our multi-skilled team has a strong vision and endless talent and creativity, and we want to create meaningful experiences that make everyday life easier," Herkama concludes.
Web: www.rbdesign.fi
Subscribe to Our Newsletter
Receive our monthly newsletter by email