Sunnmøre and Ålesund – coastal adventures from city to fjord
Text: Julie Linden | Top images © Arfin Tønnesen
Coined as an adventure capital of the fjords, the northwestern Norwegian coastal region of Sunnmøre boasts high mountains, glorious fjord sceneries and a wide range of dynamic activities. Add the impressive Art Nouveau architecture of regional capital Ålesund, its impressive music scene and innovative culinary expansions, and you are guaranteed an ambitious, well rounded yet unspoilt Nordic holiday destination that will leave you in awe.
"It's nearly impossible to narrow down our offerings to specialties and characteristics – there's simply too much to choose from," says Grethe Loe of Destination Ålesund & Sunnmøre. "The region of Sunnmøre and the city of Ålesund have grown immensely over the past few years, and we're seeing new businesses opening and old ones expanding into new, exciting territories. There's an impressively innovative vibe that's taking hold, most certainly," she says enthusiastically. "And the nature, well, it's simply breath-taking."
Indeed, an adventure capital of the fjords, Sunnmøre has long been hailed as the ultimate destination for those longing for a dynamic getaway – perhaps due to the unique offering of urban, countryside and traditional elements. Ålesund Airport, situated a mere 15-minute drive north of the city, puts you right in the middle of the action. The Sunnmøre Alps are one hour away, and the famous fjords can be reached within a one-hour drive. Opting for a city break in combination with a nature adventure will naturally show you the fullest spectrum of what the region has to offer – from picturesque, historical Ålesund to spectacular nature reserves, islands and, of course, fjords.
A UNESCO fjord and powdery Sunnmøre Alps
Known as one of the crown jewels of the Norwegian fjords, and included on UNESCO's list of World Heritage sites, is the famous Geirangerfjord. Providing truly unmatched, dramatic landscapes of sapphire-blue water, spectacular cliffs, waterfalls, free-flowing rivers and rocky mountains, the fjord is scenically exceptional and a must on every tourist's must-see list. The unspoilt and gorgeous nature is of course available all year round. "Visitors ask when they should visit the fjords and mountains, and while summer is fantastic, winter is even better. The towns and villages in the mountains and fjords are very much inhabited and the people there live regular lives year-round. It can be a jaw-dropping moment for those who are not accustomed to that," Loe laughs. "Of course, for us, the beauty of nature is that it's always there – free to be enjoyed by all."
For those wanting to make even more out of their encounter with the stunning northwestern coast of Norway, there are plenty of activities to choose from. During winter and spring, the Sunnmøre Alpine mountains are in splendid condition for powdery off-piste skiing and ski touring, and the gentler landscapes are perfect for cross-country skiing trips with the whole family. Warmer months present an ideal opportunity to see the fjords by bicycle, or to see Ålesund city, the fjords and coastal islands from a kayak. The Sunnmøre Alps are excellent for summit tours and hiking year-round, either by yourself, with your own group, or with one of many experienced guides from the area. And, for a taste of the locals' preferences, Loe suggests the 35 kilometre-long Hjørundfjord – a hidden gem that tourists often miss. "It's a lovely fjord to hike alongside, a relatively short distance from Ålesund. It's not far from historical hotels, lodges and guesthouses, for those wanting a break from the city," she says.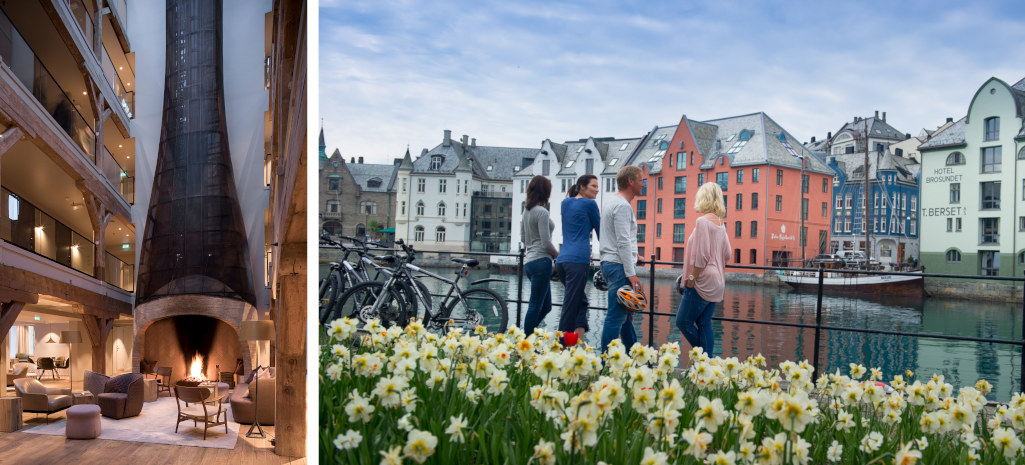 A great fire, an Art Nouveau town and historical hotels
The city, however, is the perfect place to start your Sunnmøre holiday. Noted for its Art Nouveau construction style, informing the architecture and skyline of the city, it does not take more than a stroll through town to understand that you are in a unique spot. "Many people come here to see the architecture alone, which is a testament to its historical importance," Loe notes. The city was rebuilt after a fire ravaged the town in 1904, burning down 850 houses and rendering 10,000 people homeless. In a remarkable effort, the town was rebuilt in only three years, showcasing the architectural preferences of the young, Norwegian architects of the time – the Art Nouveau style, informed by national romantic ideas. "Today, the Art Nouveau Centre offers insight into this style by means of authentic interiors and objects as well as temporary exhibitions. There are also guided city walks, with a separate walk for children," says Loe.
With eight city centre hotels and other accommodation nearby, as well as an enormous culture offering and nightlife, Ålesund is a gem of a city destination. Stay in the heart of the city at historical hotels designed in the Art Nouveau style, or a boutique hotel such as Hotel Brosundet – designed by renowned architectural firm Snøhetta. Hotel 1904 bears testament to the fateful fire and the rebuilt town, telling its fascinating story. "Special for the Sunnmøre region is that there are so many different types of accommodation to choose from, from the luxurious Storfjord Hotel with magnificent views, to the award-winning Juvet Landscape Hotel offering an escape and 'digital detox', and romantic Hotel Union Øye, which offers an historical flair," says Loe.
A growing culinary scene and countless festivals
The Ålesund culinary scene has experienced a true revival in the past few years, with a wealth of new, innovative restaurants, microbreweries, bars and cafés opening their doors to locals and visitors alike. From artisanal chocolate shops and noted microbrewery MOLO, to JACU, a specialty coffee roastery, shop and brew bar set in a former transmission substation, Ålesund showcases an impressive entrepreneurial spirit. And, with access to some of the best seafood and fresh produce Norway has to offer, it comes as no surprise that restaurants in town offer sublime dishes – straight from sea and nature.
"There are cosy restaurants such as gourmet eatery Bro and bacalao restaurant XL Diner; the new Apotekergata No 5 with its 'topographic' menu; and Polarbjørn, offering panoramic views and French-inspired dishes. Fjellstua, situated 418 steps up town mountain Aksla, has the most gorgeous views and delightful menus. There are also international offerings such as Zuuma, a modern Japanese restaurant serving sushi and grill dishes on the quayside using fish from the waters outside. It doesn't get more local than that!" says Loe.
For a cultural top-up, Ålesund presents a thriving music scene, with several local clubs and shows and, above all, a lively festival scene, including the familial potluck festival of Sommerfest, and the youthful Jugendfest. The popular Trandal Blues festival at Christian Gaard, accessed by boat or hike only, is a favourite among locals and guests. And, for the youngest, there are activity parks and Atlanterhavsparken – one of Scandinavia's largest saltwater aquariums and a leading attraction in the region. "No matter what you choose to fill your days with, we invite you to 'go Viking'," says Loe. "For us, that means doing as the locals do. You'll find friendly people who want to show you what their city and region has to offer – all to make it the best possible experience," she says warmly. "Join the locals! We'd love to have you."
Facebook: VisitAlesund Instagram: @VisitAlesund visitalesund.com
Subscribe to Our Newsletter
Receive our monthly newsletter by email