The Angel School: Spiritual awakenings
By Karen Gilmour Kristensen | Photos: The Angel School
Communing with the angels is not an everyday subject for most of us. While we may think of spiritualism's heyday as belonging in the past, two believers have founded an institution that offers like-minded people an updated take on these spiritual matters.
The Angel School in Aalborg, Denmark, welcomes everyone with an open mind and a great deal of curiosity. Founders and owners Line Rune Balling and Louise Sofia Rørbech first met at a healing education session about ten years ago. "We were doing an exercise in which we had to switch healings and tune into each other's spirit guides," Louise recalls. "We had a beautiful experience that enabled us to remember each other later on."
Years later, they reconnected and agreed to set up The Angel School. It offers a healer qualification, as well as single courses and workshops that guide participants into connecting with archangels through channelled healing.
Scepticism is welcomed
To those more schooled in science, this may sound rather strange. But The Angel School welcomes, even encourages, doubt. "It's important to set out on this journey with some level of scepticism," Louise emphasises. "We were also sceptical at the beginning, but we have had so many experiences with these energies. It has become a natural part of our daily lives that makes us feel happier and lighter."
Generally, Louise feels certain that discussion of spirituality and angels is now more accepted in society than was the case previously. "The media addresses the topic more often," she says. "They have become more curious to ask questions such as 'What are angels?' and 'Can you see them?' In doing so, they have become more willing to accept that maybe there is more between heaven and Earth than we know of."
Searching for meaning
Ultimately, the school's goal is to help course participants "unfold the potential of their souls to spread even more light in themselves and others," as Louise puts it. "Many people come to us with an openness and curiosity," she says. "They've had some experiences with angels in the past, and now they want to know more."
Reported experiences include seeing contours of light in the shape of an angel and seeing coloured lights, or auras, around other people. According to Louise, the course participants come from all levels of society and all geographical parts of Denmark. Something they all have in common is the search for a meaningful connection.
The Angel School's teaching methods differ from those of more conventional schools. "It's not so much about us talking about angels and energies," says Louise. "Rather, it's about providing people with the necessary tools to open up to these experiences to be able to channel the energies. If you're not experiencing it yourself, it won't make sense to you," she adds.
That it makes sense to their audience is important for Line and Louise. Their goal is not to preach their teachings to people; instead, each individual needs to figure out how they can use their new experiences or discoveries.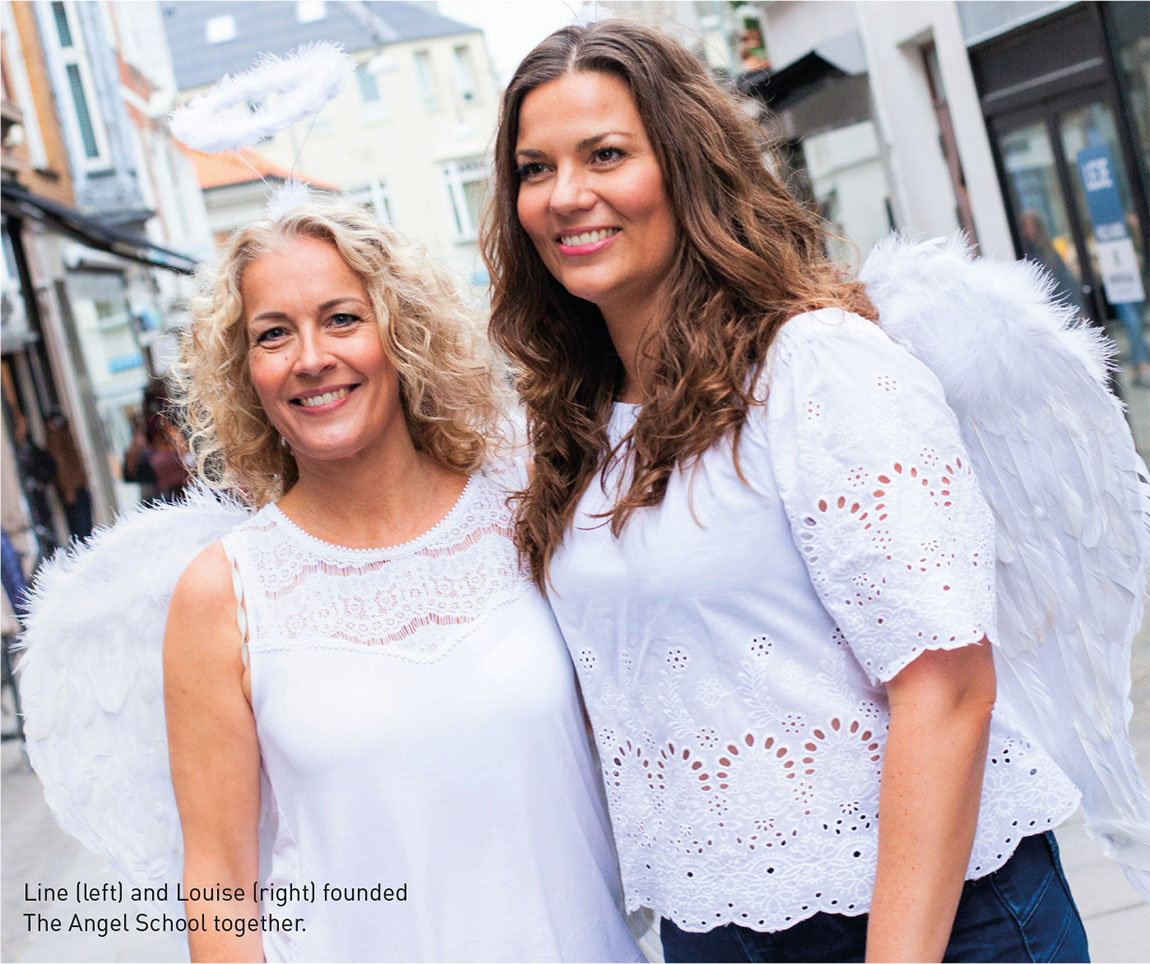 Finding out more
To help individuals on their journeys, Line and Louise have written the book Becoming a Master – Your Soul's Potential and Galactic Consciousness, which has now been translated into English. It's currently available on Amazon.com and on most audiobook platforms.
The pair also created the card deck Galactic Wisdom, a deck of 44 angel cards, which comes with its own small guidebook. "When you draw a card, you can use it for guidance on that specific day," Louise explains. "Every card contains a small energetic exercise that you can easily do, for instance meditation."
Recently, The Angel School launched its own European web shop, in which both the book and the deck of cards are available in English. "We're expanding, because we can tell there is interest, especially in the other Nordic countries," Louise says. "In fact, our book has been purchased by Norwegians and Swedes. With the English translation of our book and our new web shop, we hope to reach even more people."
The publication is not a guidebook as such. While it does contain explanations as to what angels and energies are, it's mostly a tool to help the reader "wake up their soul", Louise explains. "We believe that as well as a physical body, everyone also has a soul," she says. "When you wake up, you start to have new experiences with the energies, and you realise that the potential of your soul is huge."
In order not to lose potential readers along the way, Line and Louise have made the book easy to read. "Our goal with this book was to write something down-to-earth and not something holy or unintelligible," Louise assures.
Web: www.angelschool.dk Web shop: www.angelschool.shop Facebook: Engleskolen Danmark Instagram: @the_angel_school
Subscribe to Our Newsletter
Receive our monthly newsletter by email