Vanerum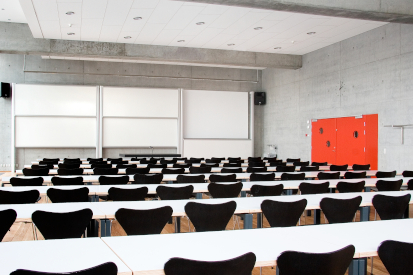 Choose (where you write) your words carefully
TEXT: SIGNE HANSEN | PHOTOS © VANERUM
In 1964, the Danish company Vanerum (then named Pentagon) produced its first ceramic steel chalkboards. Today, after a number of international mergers and expansions, the company is back doing what it does best: making adjustable, multifunctional boards produced and individually tailored in Denmark.
Vanerum's chalk-, sash- and whiteboards are not just present in schools and at universities and companies all over Denmark. A strong focus on quality, flexibility and individual design has enabled the Danish company to export products abroad as well. In a global market with many players, the key to the competitiveness of Vanerum's products is, says business unit manager Henrik Prang, the company's local and flexible production. "Our strength is in that we can easily adapt the boards to our clients' needs, creating, for instance, big, adjustable, wall-mounted systems to fit the needs of large universities, and smaller transportable boards for meeting rooms. Our local production site and its flexible programming mean it's easy to adjust to and implement individual requirements."
Originally, in 1964, Vanerum's ceramic steel boards were invented as a sort of spin-off of the ceramic-coated steel architectural cladding produced by Pentagon's mother company, Alliance Wall. Today, however, the boards are everywhere, and many products combine several boards, such as Vanerum's versatile Xilo sashboard, whiteboard and smartboard, in one system. This allows the integration of technologies, such as LCD Touch screens and interactive projectors, into more traditional writing and display surfaces.
At the same time, the boards come adjustable in height and with various frame and design options. That is, says Prang, one of the qualities essential to large customers such as the University of Copenhagen, which bought more than 350 boards for its new KUA building. It is also what makes universities as far afield as Singapore invest in a Vanerum board. "Denmark and Sweden are still the largest markets, but we export approximately half of what we produce," says Prang. "For instance, we have delivered a lot of adjustable sashboard systems to Singapore, where they are sold to some of the large American universities."

Web: vanerum.dk
Subscribe to Our Newsletter
Receive our monthly newsletter by email