Voss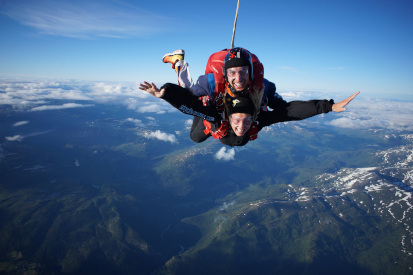 Voss – Norway's adventure capital
TEXT: JULIE LINDEN | PHOTOS © VISIT VOSS
Boasting stunningly beautiful nature and close proximity to Norway's second largest city, Bergen, Voss has emerged as the ultimate easy-to-reach adventure destination. Enjoy splendid hiking routes in wild nature, world-class rafting, guided mountaineering and air sports – including Scandinavia's first wind tunnel.
"Voss has truly made a name for itself as an outdoor sports hub," says CEO of Visit Voss, Mona H. Hellesnes. "There's really no end to the type of adventures you can experience here. We're easily reached from Bergen airport, and offer inclusive adventures for the whole family."
A welcoming region for adventure tourists of all kinds, backgrounds and ages, Voss presents a long line-up of activities attuned to your level of skill. Hike in mountain and fjord sceneries characteristic of western Norway, an experience that will – quite literally – be heightened by the opening of a brand-new cable car in June this year. The cable car, starting at Voss Station and ending at Hangurstoppen (820 metres above sea level), will have a capacity of more than 1,000 passengers per hour, providing gorgeous views and an efficient way for tourists to see Voss and surrounding areas.
"From Voss, you can hike to the Sognefjord and the Hardangerfjord with an experienced guide, or perhaps enjoy one of the Bike the Fjords cycling trips covering the area," Hellesnes suggests, adding that the area is known internationally for its water, river and air sports. "Rafting in Voss is a once-in-a-lifetime experience suitable for individuals, groups and families, as we offer rafting on several levels, in all types of weather. Children from the age of five can participate in the calmer rafting experiences. Voss is definitely the place to try new sports in stunning nature!"
Showcasing Scandinavia's very first wind tunnel, Voss provides ample chances to spread your wings and try something new. Enjoy an indoor experience of simulated skydiving with skilled instructors – or, why not take your adventure one level higher, experiencing Voss from above while tandem paragliding or skydiving? At the end of a long, adventurous day, Voss offers superb, internationally noted microbreweries, traditional Norwegian food, and a wide range of accommodation – from log cabins and hostels to historic and trendy boutique hotels. Located a 1.5-hour drive from Bergen, Norway's adventure capital awaits your visit.
Facebook: visitvoss
Instagram: @visitvoss
Subscribe to Our Newsletter
Receive our monthly newsletter by email