We Love This – Pimp My Bike
By Lena Hunter | Press photos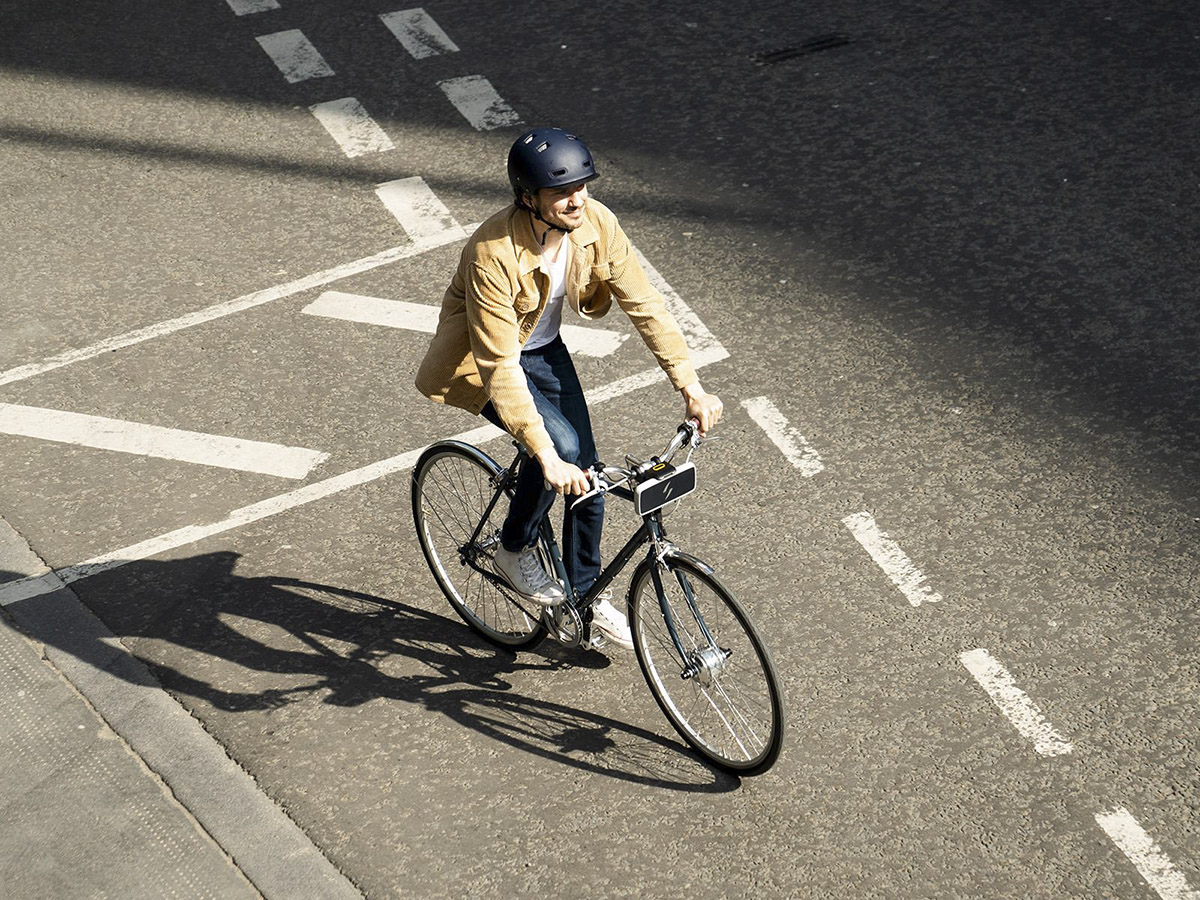 In the first days of July, the usually busy roads of Copenhagen were deserted – carved up with metal barriers and patrolled by high-vis attendants, under billowing canopies of yellow and green flags – ready for the Tour de France Grand Départ. The city held its breath. Crowds amassed on street corners, craning over metal and climbing up lampposts to catch a glimpse of the peloton on its lightning charge. When they came roaring down the tarmac, a ripple like a sonic boom swept through the feverish audience, swelling into ecstatic cheering as a flash of multicoloured deities whipped past. We love bikes in Scandinavia – and we love to accessorise them. Here are our top design picks to help you pimp your ride.
Hövding 3 Helmet
The Swedish 'airbag for urban cyclists' is worn like a collar around the neck and registers the cyclist's movements 200 times per second, inflating around the head on collision. Research published in The Journal of the Biomedical Engineering Society in 2016 concluded that the Hövding 3's airbag technology protects up to eight times better than traditional bicycle helmets. Tech credentials aside, the neckpiece has rocketed in popularity in Scandinavia as a compact, foldable alternative to hard helmets that doesn't mess up your hair.
www.hovding.com
€349
Classic Sögreni Bike Bell
Danish label Sögreni was established by Søren Sögreni in 1981 and has evolved to become the Nordic high priest of artful bikes. In the 1990s, Sögreni designed a bicycle for Denmark's leading museum of modern art Louisiana, which become part of the permanent collection. You can ride around with your own slice of modern art on your handlebars with the classic Sögreni Bell. It's easily mounted with elegant cast fittings, and even comes in a sleek wooden box with the Sögreni logo – perfect as a gift.
www.sogreni.com
€45
Swytch eBike Kit
eBike conversion kits turn a regular bike into an electric bike. Crowd-funded in 2017, Swytch's eBike Kit is uniquely simple, consisting of just four parts that can be fixed to any bike. Swytch's complete wheel in any size replaces an existing wheel, and contains a compact, high-torque hub motor. The removable power pack fits in your hand and out-performs most eBikes on the market – charging in just three hours and lasting up to 50 kilometres on one charge. Sign up to the waiting list at:
www.swytchbike.com
Pas Normal Studios Musette
If you're a bike freak in the know, you may already have found yourself drooling over Copenhagen-based Pas Normal Studios' "technically perfect apparel, combined with visionary aesthetics". This cycling musette – a collaboration with Porter-Yoshida & Co. – is a casual take on the classic messenger bag. Boasting a padded shell, Velcro fastening and a durable nylon exterior, it naturally repels water and dirt – and looks slick in the process. Pair with the Pas Normal Studios escapism bandana for the full outlaw vibe.
Musette: €185
Bandana:€25
Nova Bike Light
Nova, by Aarhus-based design label Reelight, is a battery-free bike light system. It's powered by a contactless 'rim dynamo', which works by generating a current via a magnetic field in the bike's aluminium rim. Nova lights deliver up to 60 lumens – the brightest Reelight bike lights to date – and the back-up system makes the lights flash for two minutes at a standstill.
www.reelight.com
€87
Velosphy x Sandqvist Cycle Bag
Swedish label Vélosophy is the only bicycle brand that supports schoolgirls in developing countries with a one-for-one promise to donate as many bikes as they sell. In collaboration with compatriot urban bag label Sandqvist, they have launched a functional, water-resistant cycling bag that can be carried as a backpack, briefcase or shoulder bag. The fully-lined interior features a padded laptop compartment, zipper pocket and two slip pockets, in addition to three quick-access exterior pockets. It's Scandinavian utility-chic with a conscience.
www.velosophy.cc
€298
Subscribe to Our Newsletter
Receive our monthly newsletter by email