Brøndby Idrætsefterskole: Keep it simple
By Signe Hansen | Photos: Brøndby Idrætsefterskole
With a myriad of educational possibilities, teenagers in Denmark face a sometimes overwhelming amount of choice. But not at Brøndby Idrætsefterskolen – here the main ambition is to 'keep it simple'. The sports school is structured to reduce the complexity faced by young athletes by a simple and organised approach to life and sport.
Balancing the requirements of their sport with school and social life can be a struggle for many aspiring young athletes. But at Brøndby Idrætsefterskole, everything from diet and training to homework is organised into a safe and coordinated framework created in cooperation with the students' sport clubs, parents and, of course, the students themselves.
Students need to be dedicated to their sport but, most importantly, they need to be committed to their own development. "Young people's lives are shaped by great complexity with unlimited options and choices and, consequently, demands and requirements. What we want to do is to minimise the complexity for the individual athlete in a way that makes the basic competences – needed to develop as a human being –clear and easy to approach," says principal Bo Palle Jensen. "That's why we focus on the values of will, ambition and commitment in relation to the students' approach to their sport, education, body, and social and mental competences."
Founded seven years ago in buildings previously belonging to Brøndy IF, Brøndby Idrætsefterskole has become known as one of the best Danish schools for young athletes. Behind the school's success is a team of devoted teachers with personal experience from the six sport subjects on offer: football, dance, top performance, golf, handball, and table tennis.
Focus and simplicity
To be able to structure the individual students' everyday lives and offer the best possible training facilities, Brøndby Idrætsefterskole collaborates closely with sports unions, institutions and clubs. This includes the neighbouring Idrættens Hus and Team Denmark as well as Copenhagen Golf Centre, which allows the school to offer indoor golf facilities.
Having everything in one place means that students can focus fully on what is most important for them, says Jensen. "We experience that having everything gathered under one umbrella has a very positive effect on students. They become more comfortable, confident and get to know themselves in a way they did not before: they learn what they stand for, how much they can manage and how to plan their day – all competences they will benefit from for many years ahead."
The school's focus on wellbeing and development not only includes diet, training and injury prevention but also mindfulness. Weekly meditation sessions are offered to all students.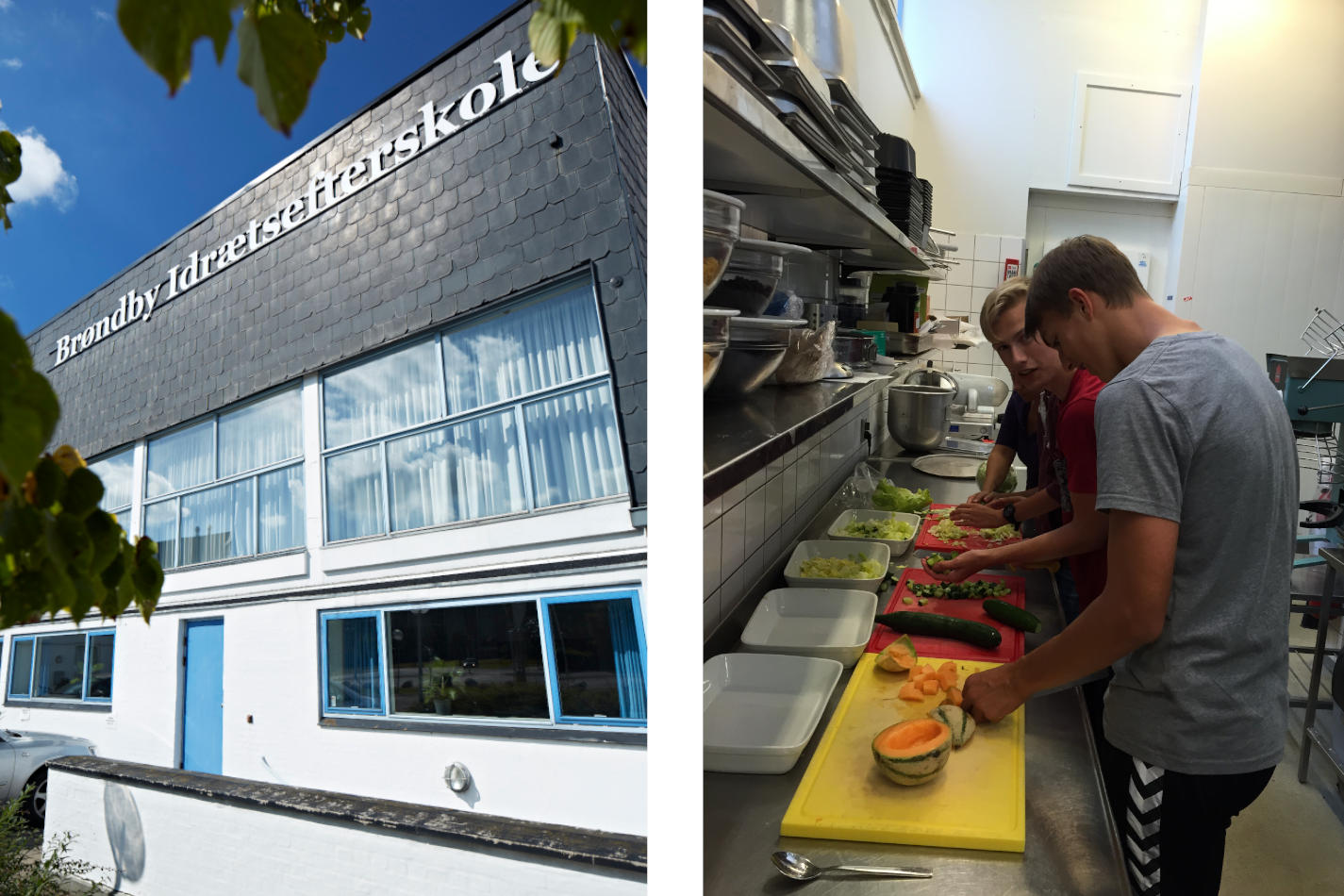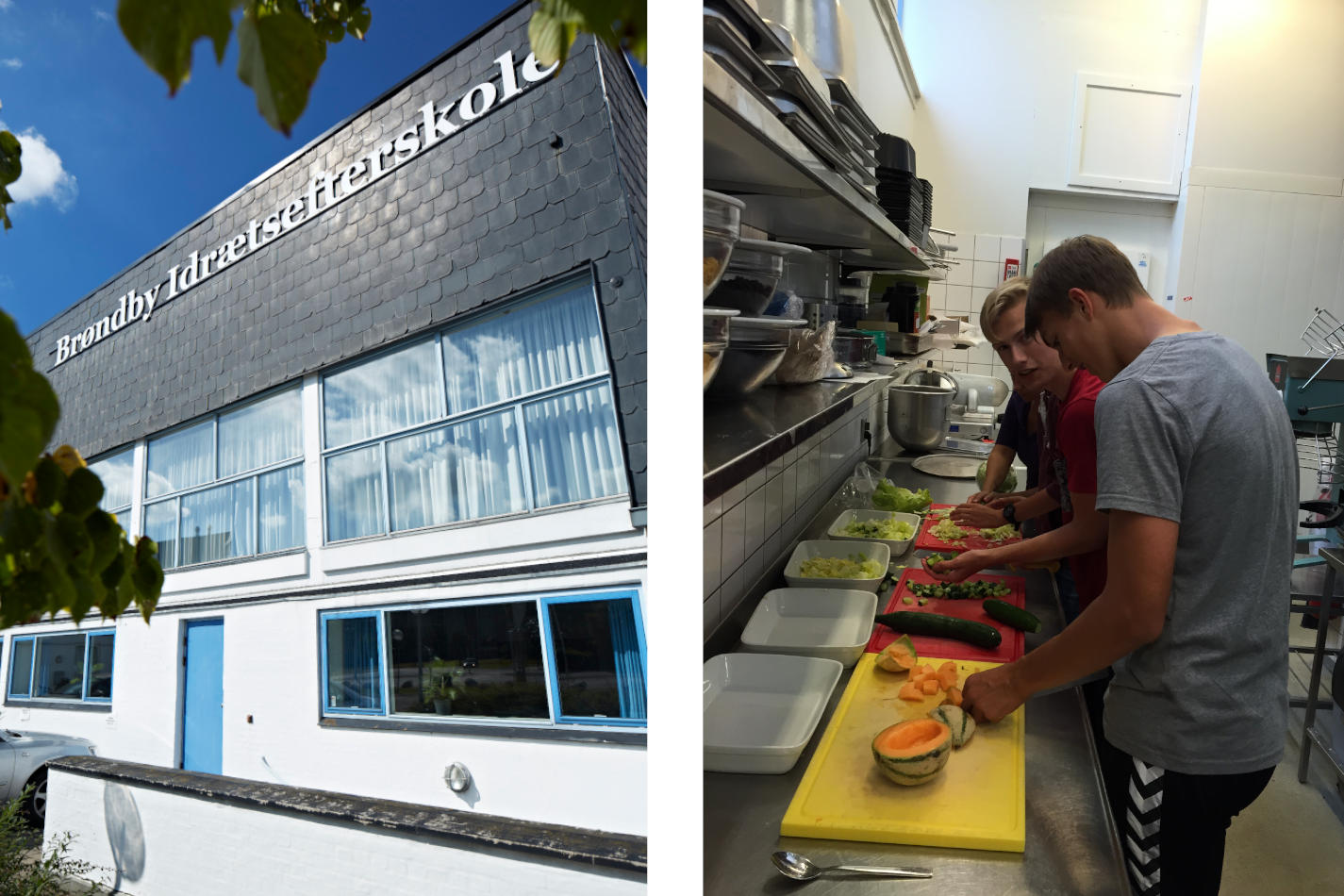 Not just for elite athletes
Though Brøndby Idrætsefterskole was founded on an ambition to create a sports school that would allow students to take their sports to the highest possible level, it is not only a school for elite athletes. The school's six programmes see a diverse mix of students from all over Denmark, the islands and even occasionally abroad, and especially the more popular sports attract athletes of all levels.
"Among our students we have both athletes who are among the Danish elite in their sports and young people who just really enjoy their sport. For instance, we have a lot of students on our football programme who just want to play more football," explains Jensen, who has been part of the school since the beginning. The school's location in Brøndby, which is within an easy train or bus ride from Copenhagen city centre, is also something that attracts many young people, as does its position right across from the popular Danish football club BIF.
Besides, Jensen stresses, the lessons students learn when training to better their physical performance are by no means limited to the sports court. "In relation to sports, you spend a lot of time and energy on creating specific objectives and working towards set goals, and we utilise that skill in every aspect of school life. For instance, if I want to improve my relationships to other people, I might set as a milestone to develop my social skills. Academically as well, it is about setting a goal and finding a realistic way to work towards it. That skill is something they can use for the rest of their life."
Facts: Number of students: 120-135 Location: Brøndbyvester Boulevard 6, 2605 Brøndby Boarding: Students stay in large, modern double or triple en suite bedrooms. Programmes offered: football, dance, golf, handball, top performance and table tennis. For more information, please visit: www.brondby-ie.dk
Subscribe to Our Newsletter
Receive our monthly newsletter by email