Kalø Højskole: Explore the Danish language, culture and nature
Text: Signe Hansen | Photos: Kalø Højskole
Surrounded by sea, forest and hills, Kalø Højskole (folk high school) provides students with the chance to immerse themselves in the Danish language and culture while making friends from all over the world. The school also has a strong focus on climate and environment, explored in its popular Outdoor Ranger course.
The students coming to Kalø Højskole to study Danish language and culture come from all over the world. Many are driven by an interest in different aspects of the Danish society, like the Scandinavian welfare system or design culture. Others, many expat Danes, come to get reacquainted with the Danish language and culture before continuing in the Danish educational system.
"Our school was one of the first to teach Danish to foreign students and immigrants – long before the governmental language centres were established," explains principal Søren Iversen. "For many years, we provided the language training for refugees coming to Denmark, at one point working with 56 different municipalities, so we have decades of experience, which we now use to teach students from all over the world." Due to changes to the Danish legislation, the school is no longer allowed to include refugees among its students.
On top of classes in Danish language and culture, the course also includes a number of special events and study trips to places of significance, such as schools, political institutions, museums, festivals and much more.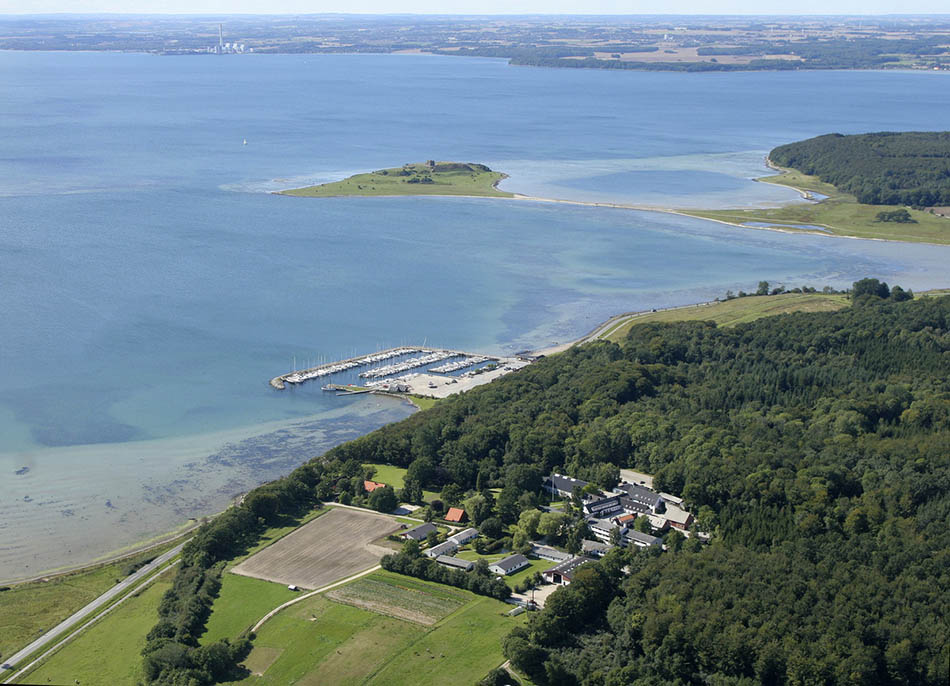 A long history of teaching language
It was the desire to foster internationally open minds, and prevent nationalism from emerging, that drove the founders of Kalø Højskole to put language subjects on the schedule of a place originally established as an agricultural school in 1952. As the only agricultural school at its time to offer English and German, the school soon became just as sought after for its international outlook as it was for its agricultural subjects. Gradually, more language subjects were added and, in the 1960s, with the arrival of immigrants and agricultural students from previously colonised countries, Kalø Højskole also introduced Danish language and culture among its subjects.
Today, the school honours the original founders' ambitions by serving as a place where Danes and international students can explore their interests, build international networks, and acquire skills to benefit not just themselves, but the world around them. "All our extra-curricular subjects are available for all students, and that's also the case with some regular subjects, like Environment and Climate, which is an obligatory subject for all students. At the moment, we're working on creating a class in English for students who aren't proficient enough in Danish to follow the main class," says Iversen. "To us, with our focus and location, it's natural that climate, sustainability and biodiversity are subjects that all students take, whether they're here to study Danish culture or nature."
Awaken your inner outdoor ranger
While international students explore the many different aspects of Danish culture, students on the Outdoor Ranger course will focus more specifically on Danish nature. Set in beautiful surroundings right by the coast and with the forest and Mols Bjerge National Park bordering the school, this is the ideal location to do so. "We take our location very seriously, and that's why we established the Outdoor Ranger course, and why our focus is slightly different than on other similar courses," explains Iversen. "What you will experience is that you'll gain a much higher level of specialist knowledge in the natural environment of Denmark, sustainability and preservation. The keywords are information and general education – not just for the benefit of the students, but for the benefit of the world around them."
To achieve this high level, the school works closely with a number of nearby organisations, from the National Park Administration to the Danish Hunters Association. During the course, students will be educated in different areas, such as hunting and foraging, surviving in the wild, and exploring above and below the sea.
Facts: Courses start every January and August and run for 24 and 18 weeks respectively. Student accommodation is arranged in the form of a small 'village' of houses surrounding a small pond. Every house has seven double and single bedrooms. Web: www.kalohojskole.dk
Subscribe to Our Newsletter
Receive our monthly newsletter by email