Orkester Efterskolen: More than a school: a community for young people with a passion for classical and folk music
TEXT: HEIDI KOKBORG | PHOTOS: GITTE BUUS ANDERSEN
OrkesterEfterskolen is not your typical school. Sure, you will find all the regular subjects like Danish, maths, and English, but you will also find subjects like music theory, music history, chamber music, and individual instrumental tuition. OrkesterEfterskolen is a school for young people with a love for classical and folk music, who wish to dive deep into the world of music
.
OrkesterEfterskolen is situated in the city of Holstebro, a beautiful part of western Denmark near the magnificent North Sea coast, and with just 59 miles to Billund Airport, the school is ideally located for when families of the international students want to visit.
The school offers six programmes: the Orchestra Programme, the Vocal and Choir Conducting Programme, the Piano Programme, the Folk Music Programme, the Organ Programme, and the Guitar and Recorder Programme. "We are a highly specialised school for classical and folk music enthusiasts. OrkesterEfterskolen is the only school in Denmark that is as dedicated to musical craftsmanship as we are. We simply love music, and the teachers here are highly educated, dedicated, and passionate about acoustic music," says Asbjørn Damgaard Faleide, principal at OrkesterEfterskolen.
OrkesterEfterskolen is for students aged 14 to 17 (or ninth and tenth grade in Denmark). It is similar to a boarding school, in that the students live at the school. This also means that it offers the students a wonderful opportunity to connect with like-minded people on a deeper level. "Many of our students come from schools where they have been used to being the only one in their class playing the piano, flute or violin. Therefore, they appreciate coming here and being a part of a community of fellow music enthusiasts. The school is almost like a little oasis for everyone who plays an instrument or sings," Damgaard Faleide explains.
High academic level
OrkesterEfterskolen was founded in 2004. The founder, Charlotte Borchorst Faurschou, saw a need for a school dedicated to classical and folk music for young people – a community for young music lovers – but also, a chance to shape and help young people develop their musical talents. "You don't have to be a musical wonder or know much about music to attend the school. You do, however, need a passion for classical and folk music and a desire to learn about music and develop your musical skills. Many of our students continue studying music after their school year here," says Damgaard Faleide.
Music lessons and practice take up about 15 hours of the students' time every week. They have subjects like music theory, music history, choir, orchestra and chamber music, and in addition, they also have individual instrumental tuition on a weekly basis. Each morning, the students start the day by practising their instruments before the more regular schedule kicks off. "We also value the academics at OrkesterEfterskolen, and our level is quite high. Our teachers are very competent and well-educated. The academics are just as important to us as the musical part," explains Damgaard Faleide.
OrkesterEfterskolen also offers extra help for any students that may struggle with the academics. "It is important to us that everyone feels welcome here, no matter what level they are at. The teachers here have more time with each student than at many other schools, which also means that the students have every opportunity to grow and develop both their musical and academic prowess during their year here," says Damgaard Faleide.
Explore other cultures
OrkesterEfterskolen welcomes about 70 young music enthusiasts each school year, and the school is currently in the process of building a new music house, which will contain everything the students need for their musical studies. Moreover, each school year the students go on an exciting field trip outside Denmark.
"This year, we are going to Norway. We have also been to Amsterdam and Bremen. We try to organise trips where we stay with locals who also have a passion for classical and folk music, and then they visit us as well. This way, the students also get an opportunity to explore a different culture," Damgaard Faleide explains.
International students are also very welcome at OrkesterEfterskolen, which has hosted students from Germany, Ireland, Sweden, Israel, and even Australia. The international students receive intensive Danish lessons, but otherwise they follow the same schedule as the Danish students.
If you and your child are feeling inspired to learn more about OrkesterEfterskolen, you can visit the school on 8 January 2022, and there's also an Easter Camp in 2022, when interested students can spend a couple of days at the school to get a better sense of life at OrkesterEfterskolen.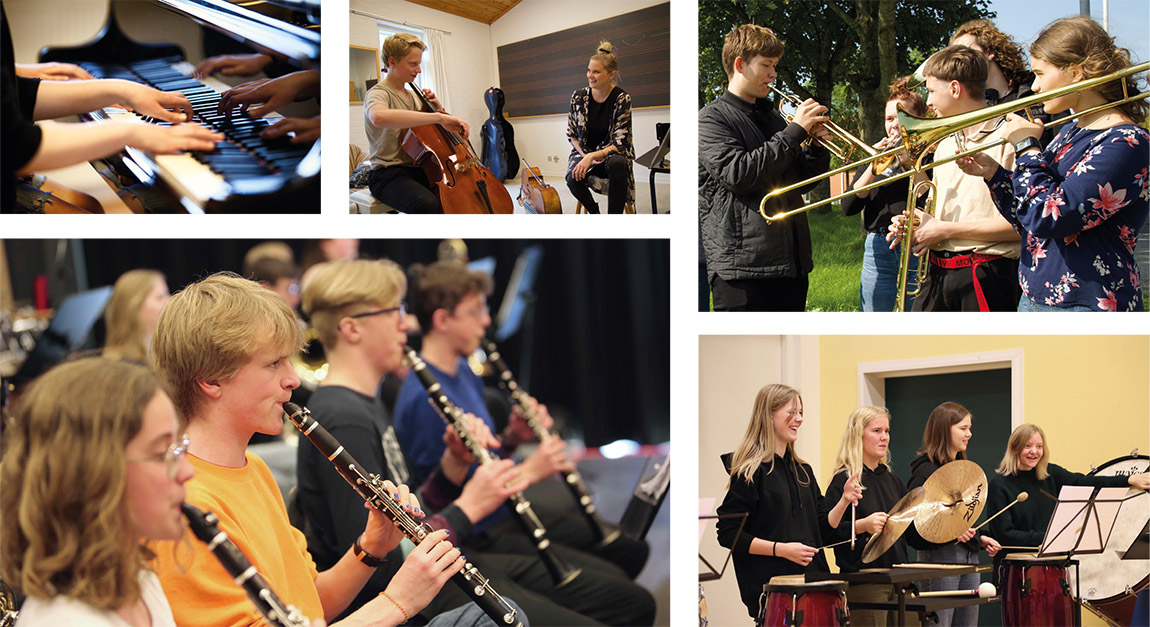 Web: www.orkesterefterskolen.dk Facebook: OrkesterEfterskolen Instagram: @orkesterefterskolen_officiel
Subscribe to Our Newsletter
Receive our monthly newsletter by email