Ranum Efterskole College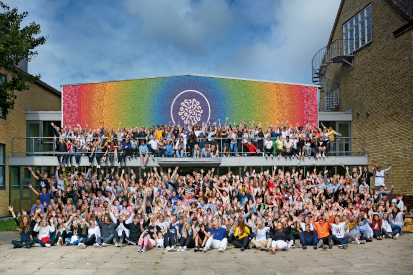 International studies your way
TEXT: SIGNE HANSEN | PHOTOS © RANUM EFTERSKOLE COLLEGE
With exams at IGCSE and AS level, Ranum Efterskole College is at the forefront of international studies for ninth- and tenth-graders in Denmark. Furthermore, the boarding school offers an array of subjects and different academic levels, creating a highly personalised learning experience.
At the core of Ranum Efterskole College is the firm belief that interaction with different cultures ultimately strengthens the personal development of individual students. Consequently, tolerance, acceptance, curiosity and open-mindedness are seen as key elements in establishing 21st-century competencies. "We see many educational courses in Denmark being taught in English, and I'm sure this number will only increase in the years to come. However, international education is not just about speaking English – it's about developing internationally-minded students who are skilled and ready to be part of a global society," says principal Olav Storm Johannsen.
For this reason, most academic subjects at Ranum Efterskole College are taught in English, and all students enjoy three yearly travel experiences to global destinations that challenge the students' academic and cultural skillset.
430 individual timetables
It is not just the international aspect that separates Ranum Efterskole College from other boarding schools. Based on the philosophies of 'inclusive community and learning' and 'participatory democracy', the school aims to provide a framework in which each of its 430 students can contribute to the development of school curricula and activities. "We watch these young people mature a great deal in the year they spend here and strive to create an environment in which they feel safe, supported and encouraged," says Johannsen. "Combining social and professional development and turning young people into responsible adults is a key aspect of what we do."
In line with this ambition, the school boasts an extraordinary range of co-curricular and extracurricular subjects. All academic subjects have different academic levels, from one to five, and, as the students can choose their own profile subjects, this means that all of the school's 430 students have their individual schedules. Vice principal Joakim Philipsen explains: "For example, a student can take mathematics at level 1, English at level 3 and Danish at level 4. This is possible because all subjects are taught at the same time. The student attends lessons together with other students at the same level, and that helps them to progress."
During the afternoon, students can choose one or two profile subjects such as music, sailing or dance.
A safe gateway to the world
Ranum Efterskole College started its full international programme six years ago, and since then, the international focus has just kept increasing. In 2014/15, 45 students took part in the international programme; this year, the number reached 189 students from around 28 different countries. Many, like 16-year-old Nanna, who dreams of continuing her studies in India, are attracted by the combination of the broad variety of subjects and the international possibilities. "Before I enrolled, I did some research on different 'efterskoler'. Ranum Efterskole immediately stood out because of its international profile and the opportunities it offered in extension of this profile. I thought it sounded pretty interesting – and in addition, you get to go on three study trips during the year. I also chose Ranum Efterskole because of its many offers and activities," she says.
Furthering the international focus, Ranum Efterskole College collaborates with schools and global educational institutes from all over the world. Among its partners are international organisations such as Cambridge Assessment International Education, the Nordic Network of International Schools, and UNESCO.
Summer school
For young people struggling to decide where to continue their educational journey, Ranum Efterskole College offers a two-to-four-week International Summer School, giving students a taste of the efterskole life, before signing up for the full year. The summer school gives students a chance to challenge themselves personally and academically, and strengthens their social competencies. "It is a great opportunity to experience life at an efterskole, learn something new during your holiday, and make friends from all over the world," says vice principal Joakim Philipsen and rounds off: "An 'efterskole' can't be explained in words – it must be experienced!"
Next summer, Ranum Efterskole College will also be expanding with a one-week family folk school programme in July.

Ranum Efterskole College in numbers:

-430 students, 101 employees, 51 teachers.
-19,600-square-metre campus.
-Students live in one-, two-, four-, or six-student apartments.
-50+ extra-curricular subjects.
-Four science laboratories.
-Three music rooms.
-Six specialist classrooms: design/art, craft, multimedia, e-sport, e-music, and IT.
-Four gyms and an outdoor sports arena.
-21 profile subjects including adventure race, dance, drama, gastronomy, yoga and mindfulness, and street performance.
-26 culture subjects including Cuba, Hawaii, China, Nepal, New Zealand, South Korea, and Thailand.

Web: ranumefterskolecollege.com
Facebook: ranumefterskole
Instagram: @ranumefterskole
Subscribe to Our Newsletter
Receive our monthly newsletter by email