With a specific focus on young expats from Danish families abroad, Ranum Efterskole College's bilingual set-up provides students with an unmatched chance to learn Danish while being part of an inclusive, English-speaking environment. With ninth- and tenth-graders from more than 20 countries, the school presents a truly diverse environment focused on introducing youngsters to the Danish learning culture, while preparing them for continued education in Denmark or abroad.
TEXT: SIGNE HANSEN | PHOTOS: RANUM EFTERSKOLE COLLEGE
MAIN IMAGE: WITH STUDENTS FROM MORE THAN 20 DIFFERENT COUNTRIES, RANUM EFTERSKOLE COLLEGE PRESENTS A TRULY DIVERSE SCHOOL ENVIRONMENT.
Having initiated its full international programme seven years ago, Ranum today presents one of Denmark's most international and diverse school experiences. With 430 students, the school is able to offer no less than 25 profile subjects, 25 culture subjects and more than 50 extra-curricular subjects, as well as two international programmes. Currently, the international programmes, Cambridge IGCSE and Cambridge AS/A level, have more than 180 students from over 20 different countries enrolled. "We are the only Danish efterskole offering students the possibility of combining Danish and international programmes, and that creates a unique possibility for us to give expats a smooth introduction to the Danish educational system, while at the same time enabling them to continue their education abroad," says principal Olav Storm Johannsen.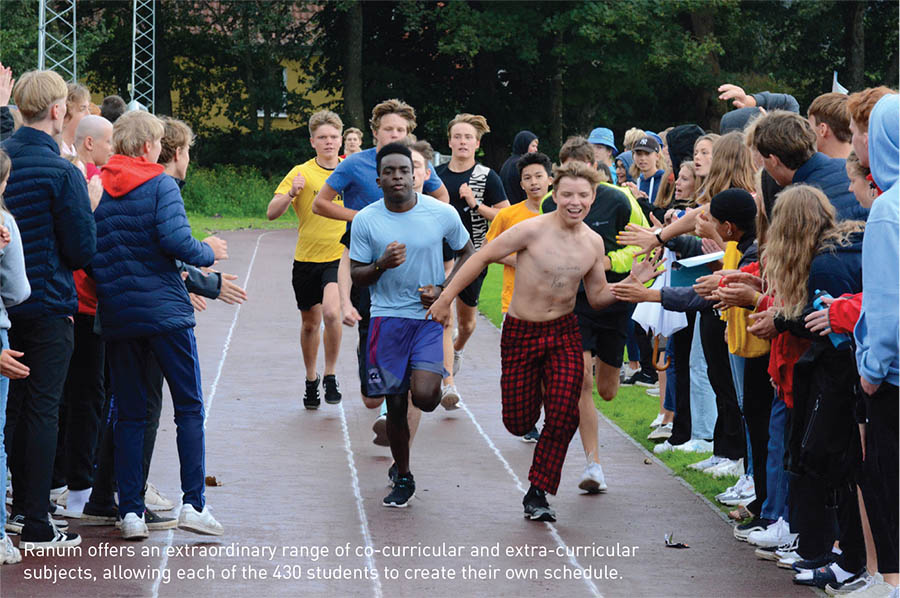 On top of the flexible programme and academic offerings, Ranum is also the only efterskole in Denmark to offer international boarders a full host package. This means that the school can take over all practical responsibility for students, who do not have the opportunity of visiting a family or host family in Denmark during the extended weekends and short school holidays.
430 individual timetables
It is not just when it comes to the international options that students at Ranum are free to create their own individual programme. As everybody chooses individual profile subjects – such as dance, drama or gastronomy, or culture subjects including Cuba, China or Thailand – none of the school's 430 students have identical schedules. Furthermore, to ensure that each student is academically challenged no matter which level he or she enters the school at, all academic subjects have different levels from one to five. For example, a student can take mathematics at level one, English at level three and Danish at level four. The different levels range from the Danish ninth- and tenth-grade programme to the international IGSCE and AS-level programmes.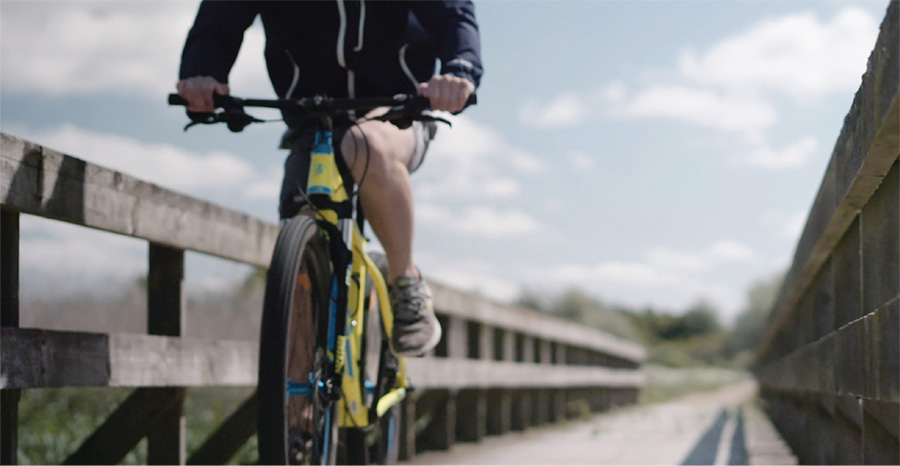 In addition to other offerings, students who attend the school to improve their Danish skills have the chance to do so through Danish lessons specially tailored to their needs. "Because of the school's size, we are able to offer a class specifically tailored to the students who need to improve their verbal and written Danish skills more fundamentally to prepare for a continued education in a Danish secondary school," explains Johannsen.
Danish efterskole values and global skills
On top of preparing students with the academic skills needed to navigate an international world, the size of Ranum and its global structure also enable students to gain life skills from all over the world. "An 'efterskole' is very much about being prepared for a free and independent life, and that's something that is greatly furthered if the students learn these values in a diverse community," says Johannsen. "Diversity changes the light the students see themselves in so that it naturally expands to include a much wider spectrum of colours; it gives them a much broader understanding of the world and emboldens them to explore the possibilities it holds for them – both at the school and after."
Meanwhile, while at the school, the youngsters will also be immersed in Danish efterskole culture. Based on the values of an inclusive and participatory democracy, the school aims to provide a framework in which each of its 430 students can contribute to the development of extra-curricular subjects and activities. "Our school is founded on the ambition of enabling students and employees to shape the content of the school's extracurricular subjects, as well as profile and culture subjects, together. It's a unique way to learn about the responsibility, participation and democracy that are the cornerstones of what our students here call '#togetherness'," says Johannsen. "The fact that students and employees shape the year together creates an innovative and highly motivating environment that you won't experience at schools where everything is in pre-defined boxes. It also means that our students learn to focus on their individual interests and goals, and to implement decisions that will enable them to achieve them."
Exploring the world
As the third-biggest efterskole in Denmark, Ranum collaborates with schools and global education institutes from all over the world. Among its partners are international organisations such as Cambridge Assessment International Education, the Nordic Network of International Schools, and UNESCO. Furthermore, the school offers all students three yearly travel experiences to global destinations that challenge the students' academic and cultural skillset. All of the trips are integrated into the students' chosen profile and culture subjects, with students partaking in academic preparation two to three months before each trip. "It's not just a random chance to get out of class, but a trip planned as part of the academic programme; it's a learning tool that supremely connects academics skills, life skills and individual interests," stresses Johannsen.
The trips abroad are also one of the many experiences that make Celine Svinding, who completed the school's International General Certificate of Secondary Education this summer, absolutely sure she made the right choice in coming to Ranum. "My year at Ranum has been amazing – not least because I made friends for life and had unforgettable trips to Liverpool, South Africa and Hong Kong, but also because I learned to adapt to others, to people very different from myself," she says, adding: "I've only had one school year here, and it's passed incredibly fast, but I have in no way regretted my choice. Nothing else would be able to replace what I've learnt at Ranum."
Summer school
While there are many obvious advantages to a year at a Danish efterskole, at just 15 or 16, signing up for a full year can be daunting, especially for those students who spent their entire life in a different country. To help those struggling to decide, Ranum has created a two-to-four-week International Summer School, offering a taste of Danish efterskole life. The summer school provides students with a chance to challenge themselves personally and academically, while strengthening their social competencies and exploring a number of Denmark's famous attractions and cities. 15-year-old Ludovica from Italy was one of the youngsters taking part last year. "I joined Ranum Summer School, and it was the best summer of my entire life. I experienced things that I would never have thought of, because there are a lot of different opportunities at the school – you will most certainly find something you think is interesting and fun. I both learnt how to sail and studied science, and to me that is a really nice combination."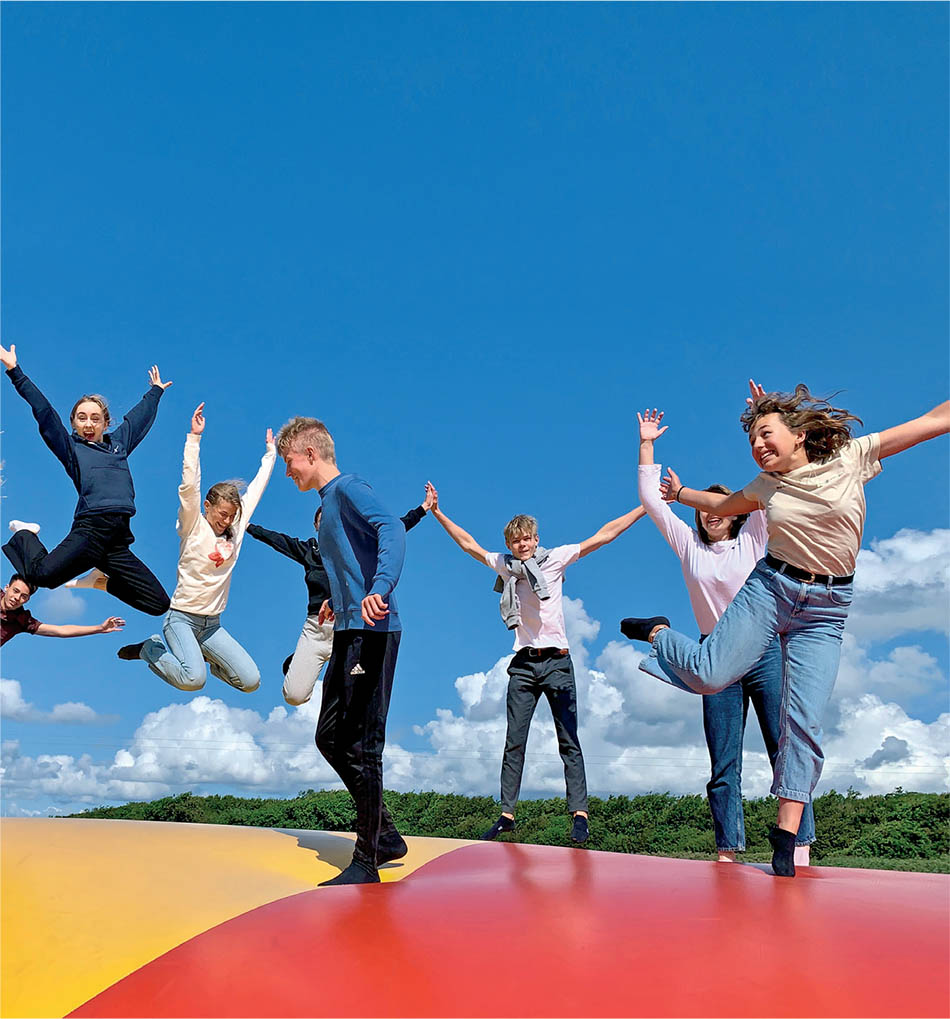 International offers at Ranum Efterskole College:
— Cambridge International General Certificate of Secondary Education
— Cambridge Advanced Level
Ranum Efterskole College in numbers:
— 450 students
— 101 employees
— 57 teachers
— 19,600-square-metre campus.
— Students live in one-, two-, four-, or six-student apartments.
— More than 50 extra-curricular subjects.
— Four science laboratories.
— Three music rooms.
— Six specialist classrooms: design/art, craft, multimedia, e-sport, e-music, and IT.
— Four gyms and an outdoor sports arena.
— 25 profile subjects including adventure race, dance, drama, gastronomy, yoga and mindfulness, and street performance.
— 25 culture subjects including Cuba, Hawaii, China, Nepal, New Zealand, South Korea, and Thailand.
Facebook: ranumefterskole
Instagram: @ranumefterskole