Rejsby Europæiske Efterskole
At Rejsby Europæiske Efterskole, your world grows
"Travelling is living," said the famous Danish author H.C. Andersen many years ago. It is a message that is more important now than ever before.
Rejsby Europæiske Efterskole is an international school where travel, cultural exchanges and community are at the top of the list of priorities. The school helps shape the students' futures by supporting them in becoming more globally minded world citizens.
One strong sentiment at the school is the belief that by meeting other cultures first-hand, students will break down preconceptions of other cultures, thus making them stronger human beings. In a constantly changing world, according to the school, it is very important that the youth of the future has a global perspective and views cultural differences as a strength rather than a challenge.
This is why Rejsby Europæiske Efterskole offers an international environment with students from many different places around the world, teachers with English and German as their mother tongue, and an international class where all subjects are taught in English. Additionally, all students take three trips to different European destinations, one being an exchange trip with students of the same age from another school in Europe.
"As a young adult today, it is necessary that you have a global point of view and can react professionally and socially in a world that has expectations regarding language, knowledge and your ability to interact with people that are different to you," says Brian Bastiansen, head master at Rejsby Europæiske Efterskole. "At Rejsby, we give our students a strong foundation to be able to embrace the world and all its opportunities."
High academic level
The school has a strong background in social studies that, combined with the international environment, suits students who go on to continue their education, helping them navigate an ever-changing world where there is often great pressure on students' academic results.
Here, not everything is about books and sitting at desks. The classes watch the morning news every day and use current-day themes as a central part of many lessons. Conversation and debate are also integral parts of learning in the classrooms. Education takes place continuously all day long.

Strong community
The most unique aspect of a so-called efterskole is its strong sense of community. At Rejsby Europæiske Efterskole there is a focus on each individual student's potential, so that everyone can flourish together as a community. It is the differences, and that special dynamic that is created when students discover the strength in these differences, that are so special from person to person and from culture to culture.
"The openness towards each other becomes gradually apparent as the school year goes on. The students thrive despite their different backgrounds, languages and ages, and that confirms how the community project of an efterskole binds them together. They become better equipped young adults that are carried by their curiosity and respect for others," says Bastiansen.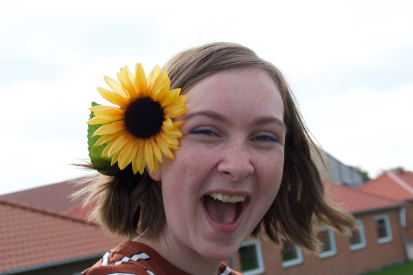 Meet a student
Maia Mote, 15 years old, from England:
"I chose Rejsby Europæiske Efterskole because I've always loved Denmark and wanted to try immersing myself into the Danish lifestyle. My mum is Danish, so we have always had a connection to Denmark, but that was the extent of my relationship with the country. A year ago, I found out about this school and it sounded too good to be true. I would get to live in Denmark, learn Danish and understand the culture, while being taught all my classes in English so that I wouldn't fall behind. So I jumped at the opportunity, and it has most certainly lived up to all of my expectations.
When I first joined, everything was a little scary. I was in a new country where almost everyone was speaking a different language, but very quickly I learnt that everybody at the school is so kind and willing to speak English to me the minute I ask. I have made some really lovely friends this way, but now I have learnt so much Danish that I can even try to join in some conversations after only being here for two months.
The efterskole concept is unique and different to anything I've seen or been a part of before, because you develop such strong bonds with the people you are sharing it with. These people become so much more than just some friends from school. They become your second family."
School facts
-Located in the small countryside town Rejsby in the southern part of Jutland near Germany.
-The school has approximately 150 students.
-Rejsby Europæiske Efterskole offers around 30 different elective subjects in different areas such as sports, creativity, music, e-sport, languages, media, and more.
-Students get the opportunity to learn five different languages, in which the school works together with educational institutes in England, Germany and France.
-The school offers teaching and exams in Cambridge English (IGCSE) and English as a second language. Cambridge IGCSE is internationally recognised.
-Students in the international class also take the Cambridge exams in mathematics, combined science, and global perspectives.

Web: rejsby.eu
Facebook: Rejsby Europæiske Efterskole
TEXT: STINE ENEVOLD VALENTIN | PHOTOS © REJSBY EUROPÆISKE EFTERSKOLE
Subscribe to Our Newsletter
Receive our monthly newsletter by email