Sigtuna Skolstiftelse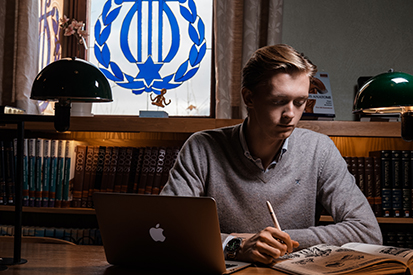 Education for life
TEXT: KRISTINE OLOFSSON | PHOTO © VILHELM EDGREN
Sigtuna Humanistiska Läroverket (SSHL) is more than just an educational institution. This Swedish boarding school offers both International Baccalaureate (IB) programmes and Swedish curriculum programmes, and in combination with engaging extracurricular activities, SSHL becomes a second home. "This is a Swedish boarding school with an international outlook. Here, you learn for life and establish friendships that will last forever," says Vilhelm Edgren, communications manager at SSHL.
Located in leafy surroundings next to Lake Mälaren, SSHL houses 200 boarding pupils and has 500 additional day pupils, all in seventh to 12th grade. SSHL was one of the first Swedish schools ever to introduce the IB programme, opening many doors for those aiming to study at an international university. Taught entirely through English, it maintains very high standards and is an alternative to the equally well-renowned Swedish programmes. "We welcome pupils from all over the world, from both Sweden and abroad. Our teachers, boarding and extracurricular staff are extremely engaged, and there is always someone available 24/7. This is what makes us stand out," says Edgren.
More than a school
Many pupils consider SSHL their second home. They end up building very close friendships and extracurricular activities are a large part of life at the school. "There are endless possibilities when it comes to events and projects," Edgren continues. "Someone with an idea for a project or an organisation is given the chance to present during the monthly school conference."
The different projects can range from building a 3D-printer to different volunteer projects. One example is a project with a school in Kenya, as well as an upcoming project in Laos. The school also offers countless sporting activities such as football, rowing, volleyball and pool, with possibilities to participate in international school tournaments for some of the sports.
In addition to this, the school has an impressive and dedicated alumni network, with high-profile former pupils visiting the school for inspiring talks. Those interested in trying out boarding life can sign up for 'try-boarding weekends' via the school's website and spend a few days at SSHL. "This is a great way to see what we are all about. The visitors get to try out classes and activities. The education has a holistic perspective of learning both in and out of the classroom, and the atmosphere is welcoming, safe and open-minded with a focus on everyone's equal value," Edgren sums up.
Subscribe to Our Newsletter
Receive our monthly newsletter by email